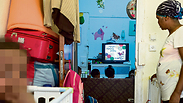 Dozens of children in each improvised preschool.
Photo: Eli Atias
Abandoned in south Tel Aviv
Defense Minister Avigdor Lieberman's decision to halt volunteer activities involving IDF soldiers and foreign migrant children has been both controversial—among related Israeli charities and some former IDF personnel—and popular—among at least one local resident and anti-migrant protest leader.
A. sits at the kitchen table; in front of her is a plate of Israeli couscous. She takes each grain individually, bringing it closer to her mouth. From time to time, she flashes a heartwarming smile and goes back to staring at the dish. Thirty minutes have passed since she started eating, and her plastic plate is still not empty.

"Aren't you hungry?" I ask, and she looks at me and nods, indicating she is indeed. And then I understand—this is her break, a time when she can be alone, away from the other 23 children cramped into the small room in south Tel Aviv.

A. has been here, at the improvised preschool in the Neve Sha'anan neighborhood, for 12 hours now. She arrived at about 5am, accompanied by her mother, an Eritrean refugee on her way to work.

"How old are you?" I ask. She lifts three small fingers and smiles awkwardly. L., the preschool manager, sees that A.'s dinner is going on for longer than expected and comes over. She bends down and helps A. finish quickly. There are several other children who also have to get their meals.

The smell inside the preschool is heavy: It's a mixure of the humble cooked meal, used diapers, and sweat. The air conditioning is set to 18 degrees Celsius, but cannot overpower the combined body warmth of the room's inhabitants. There are 19 other babies and toddlers in the two tiny adjacent rooms, lying in plastic cribs or crawling on the foor. There's a great commotion, as the sounds of shouts mix with crying and the loud noise eminating from the television. Tom the cat chases Jerry the mouse for many hours, to no avail.

L. stands in the kitchen, facing the sink. The kids, unsupervised, try to find something to do. "I'm Mordecai the Jew (from the Book of Esther)," one of them introduces himself, "I'm five years old, I'm big!" But six year-old S. teases him, "You're not big!"

When I call the photographer on the phone, one of the children asks, "Are you calling someone to come take us out of here?" "No," I answer, and the boys' eyes fill with disappointment.

When the preschool teacher sits down on a chair in the big kids' room, each child approaches her in turn, and she changes their diapers. Some of them are over four but have yet to be weaned off diapers, since there's no one to wean them.

Two kids are fighting for a small, yellow tractor toy. The scoop falls off the car's body, and one of the kids falls down, crying. L. doesn't have the time to console him.

These children spend long hours here, with little to no organized activity. There's hardly any positive attention either—very few hugs, good words, or even simple smiles by nearby adults. Boys and girls, ranging from two to six years old, playing on the same linoleum surface, with the same small number of toys. There's hardly any space for them. Some are only picked up by their mothers at 10pm, some as late as midnight.

Just two days earlier, late in the afternoon, a one-year-old child at one of these improvised preschools was choking, but couldn't get the preschool teachers' to notice him for several minutes. He was rushed to the Tel Aviv Sourasky Medical Center, not breathing and with no pulse. He was taken into the children's emergency room in critical condition.
Sounds of hunger
There are nearly 90 such preschools in south Tel Aviv. They're nicknamed "baby sitters" or "warehouses," and take care of about 3,000 girls and boys of asylum-seekers, ranging in age from one month to six years. Most of these institutions were established by women, legal work migrants, mostly from western Africa. They take care of 40, 50, sometimes 80 children at a time. L.'s preschool is one of the luckier ones, getting help from Elifelet, a civilian charity organization aimed at helping the children of refugees in Israel.

Elifelet was founded by Yael Gvirtz in 2012, after she was shocked by an incident in which a Molotov cocktail was hurled at one of these "child warehouses." She provides aid to ten preschools in all, which take care of about 650 children.

Elifelet volunteers made sure to cover up exposed electrical wires at L.'s preschool, install air conditioners, and take out the tanks of cooking gas. They come to play with the children every day, and bring them some cooked food. "This way we can rest easier, knowing the children go home with a full belly," Gvirtz said. "At first, there was a lot of hunger. It took me time to understand that hunger cries sound differently. These days, at least those sounds have stopped."

Until a week ago, this preschool, along with others with which Elifelet works, were visited by soldiers from different IDF units as well.

"They took us out to the park," S. says in his perfect Hebrew, "Played soccer and basketball with us."

"And also swung us on the swings," adds the child who calls himself Mordechai the Jew.

But then Defense Minister Avigdor Lieberman decided that IDF units no longer conduct organized volunteer activity with the south Tel Aviv refugee children as part of their military service—and the visits stopped.

Two days before the news of Lieberman's decision was reported by Ynet's sister publication Yedioth Ahronoth, a female soldier who serves in a field battalion contacted Elifelet. Eighty soldiers from the unit want to do their volunteer work with the children, she said. After the announcement was made, she called again. "The units now want to put the volunteer work on hold," says Julia Shahar, an Elifelet coordinator. "They respect the leadership and don't want to act against instructions. They say they hope it will work out, and that they might be able to come back later on."

The defense minister's decision put a stop to a three-year tradition, in which soldiers would come to these preschools for periods of about three hours, play with the kids, and learn about the refugee population. Soldiers from ten units came each year, most only once.

"Soldiers came independently, in large and small groups," said Shahar. "Commanders and education NCOs contacted us. The kids would jump at them happily, as they would at anyone who arrived. But we personally see it as very important that soldiers come, because the refugee children are very scared of uniforms. For them, and especially for their parents, there's something stressful about military uniforms, whether it's due to memories of their old homelands where they were harmed by soldiers or policemen, or because of tough encounters in Israel with the Immigration Police or Border Police. This volunteer work is an opportunity to change the perception of soldiers as scary, (and allows the kids) to see them as human. And it's a very important experience for the soldiers themselves, who tell (us) how significant it was for them."

M., a young woman who, until recently, served as a training officer for an elite IDF unit, brought her soldiers to do volunteer work at the "warehouses."

"When we looked for where to volunteer, my friend told me about (the 'warehouses'). We came to visit one of the preschools, and were shocked by the conditions in which the children were. We just came in for a second, smelled the air, and understood (the severity of) their situation. I had doubts about this (volunteer work), because I knew it would raise questions, perhaps even thoughts of it being a politically motivated decision, but as far as I'm concerned it's a completely humanitarian issue. These are children who didn't choose this life, and I don't care what their parents' status is. The children did not choose to come here."

Most "warehouse children" were born in Israel, to parents who fled one of two African nations: Eritrea, a dictatorship in which those who oppose the government are arrested and deprived of their human rights, and South Sudan, which has experienced genocide. Their parents went through a long journey, sneaking into Israel through Egypt—before the southern fence was erected. Most are not recognized by the State of Israel as asylum seekers, but they have been allowed to work in the country using a temporary permit they need to renew once every two months.

When M. told her soldiers where she planned to send them for volunteer work, some eyebrows were raised. "There were a few opposing voices, saying it represents a political position and that the military should be a-political," she said. "I made it clear that we are not taking a position on the refugees' status, and that our work was with children who need help. I also emphasized that those who were uncomfortable don't have to go, but if I remember correctly, there weren't any soldiers who chose not to (go and volunteer). We went to the preschools every Sunday, and eventually the volunteer work was amazing, especially because it had been so controversial at a first glance.

"It was heartwarming to see the soldiers who, at first, were opposed to the idea, connect with the kids, play with them lovingly, and understand that this is a complex situation that's not just black and white. It was very heartwarming to see soldiers from all parts of the population—central Israel, the south and north, Judea and Samaria, secular and religious—volunteering, and feeling good about doing so. Since its beginning, the IDF has taken pride in being an educational body, not just a military, and I think this (volunteer work) is educational and eye-opening. It opened up a world of tolerance to the soldiers."

The decision to halt the organized IDF volunteer work didn't just anger M., but also IDF Brig. Gen. (res.) Asaf Agmon. Agmom, who served as a pilot and commander in the Israel Air Force (IAF) for many years, and took part in operations to bring Ethiopian Jews to Israel, has decided to gather his fellow reservists and help fill the void left by active-duty IDF soldiers.

He's now calling on reservists from other units to join him. "The defense minister's statements are an interference in a field that does not fall under his authority," Agmon claimed. "He's not the IDF Chief of Staff, and is not supposed to say what IDF soldiers do (in this area). A senior officer told me that Lieberman was taking the wind out of the IDF's sails with this decision, because beyond their training for protecting the state, killing our enemies, and sacrificing their lives if necessary—soldiers need to be involved in the community, have sensitivity towards their environment, (and) help the weak, the poor, and anyone else who needs it. They need to know why they're protecting the state."

But Lieberman didn't say that the IDF has to stop helping the community, just that "charity begins at home." For instance, that it's preferable to give aid to Holocaust survivors.

"The IAF and IDF went to Haiti and Nepal after the earthquakes, and the State of Israel took a lot of pride in that. When IDF soldiers take a four-year-old who spends his entire day in a warehouse out to a public park for a few hours, they do something that brings great honor to the State of Israel and the IDF. A child is a child is a child, and it doesn't matter if they were born to a refugee, an infiltrator, or a criminal. Through his statements, the minister did a great disservice to the IDF and the State of Israel. He brought the military into a political controversy, where there shouoldn't be one. They're children. That's why we decided, as reservists, to help them and do what, sadly, the defense minister is preventing (active-duty) IDF soldiers from doing."

Agmon said that the Military Intelligence Directorate's Unit 8200 has been sending soldiers to volunteer at the Bialik-Rogozin School in Tel Aviv, in which many children of migrants study, for years. He hopes that its veterans will now join his effort. "The Unit 8200 soldiers helped teaching science, and some of the school's graduates are now IDF offices. I expect that intelligence veterans come volunteer, as well as soldiers from other units and civilians with Jewish values. These are children, I don't understand where the notion of preventing them from receiving aid comes from."

Others have also joined the movement to help refugees children. Volunteers from Tag Meir—a coalition of organizations that promote tolerance and pluralism, and oppose racism, in the name of Judaism—went to help out at a preschool in Tel Aviv's Hatikva neighborhood. The preschool they visited is about 15 minutes away from L.'s. On Tuesday, they tethered themselves to the kids, so that no one would end up wandering into the street or get lost, happily marched together into the local neighborhood park, and loudly sang cheerful songs.

"We met charming children, three-and-a-half to five years old," said Tag Meir Chairperson Dr. Gadi Gvaryahu. "Most speak Hebrew and an additional language. Most will later become citizens of the State of Israel and serve in the IDF, and even if they choose to leave and return to their countries of origin, a Jewish democratic state has to show compassion and love to child refugees without preconditions. The military of a Jewish democratic state must instill in its soldiers, among other things, the idea of treating the weaker parts of humanity with affection and compassion. We mustn't confuse foreigners with enemies, or harsh-fated refugees with terrorists."
'It was better in the ghetto'
The snowball that led to Lieberman's decision started rolling after Sheffy Paz, a resident of the Shapira neighborhood and an activist leading protests against the African migrant population, sent photos of soldiers doing volunteer work with asylum seekers' children to MKs. "They were shocked when I came to photograph them during the activity," Paz said. "I told them, 'Smile – it's going to the defense minister.' The soldiers said, 'You're not allowed to take our photos.' I told them, 'Sorry, you've entered a war zone.'"

Deputy Defense Minister Eli Ben Dahan, who saw the photos, called for the defense minister and for IDF Chief of Staff Gadi Eisenkot to halt volunteer activities with children of asylum seekers. The IDF then announced they'd pause these volunteer activities, and Minister Lieberman subsequently instructed that they be stopped immediately.

Paz, as far as she's concerned, marked this as an important achievement. "The presence of soldiers crossed the line," she said. "People here were boiling over with rage. We feel abandoned already, and then the military, as a symbol, comes and takes sides—and not in favor of its people. In this situation, we feel like we are under occupation. The authorities, including the police, aren't on our side, and the military comes forth in favor of the occupiers. The IDF, beyond the fact that it is not meant to be anyone's babysitter, is also not supposed to be involved in controversial matters."

"The humanitarian organizations have turned our neighborhoods into their playground, they bring a lot of volunteers. There's not a day in which we don't see groups of them with children. We can't do anything against an insurance company that sends its employees to volunteer here, but we can influence the IDF."

And still, the claim is that your actions harm innocent children.

"I know these are two and three year-old children, but they belong to the people who have ruined our neighborhoods, our community, and our life. The neighborhoods in south Tel Aviv have changed a lot over the last decade. A lot of residents have fled, a large portion of the homes here have been bought by investors, a lot of young people from the left moved in. They feel it's really cool, that they're progressive and liberal and enlightened, but for older people and children it's not cool at all. Our life here is no life at all. The Neve Sha'anan area has a family of Holocaust survivors who say 'It was better in the ghetto.' They're deathly afraid. There's a 24 year-old woman here for whom every upstairs trip in the dark is a terrorizing journey. We in the Tikva and Shapira neighborhoods feel like an ethnic minority, in a place that's supposed to be our country."

"This is a neighborhood in which, a decade ago, children freely walked the streets. These days, you won't see Israeli children out in public, certainly not alone, and definitely not after 5 or 6pm. The feeling is that of a slum. Beyond fears for personal safety, there's also a very harsh feeling of abandonment."

The harsh feelings by some locals have also been given expression through hateful graffiti. Words like "foreigners out," and "Eritreans leave Israel," have been sprayed on local walls.

The fight against foreigners has also spread onto the internet. South Tel Aviv residents are writing social media posts against them, as well as against the volunteers helping them. "This internet controversy hurts, as does Lieberman's decision," says former officer M. "The whole way in which this matter was handled enrages me. It's important to mention that the volunteer work was approved through all proper channels, and so it's strange to me that protests turn legitimate volunteer work illegitimate. When we volunteered, they asked why we weren't volunteering with Israelis, Jews, why we have to babysit these kids. I don't wish anyone that their children be in these kinds of preschools… Just one look into their eyes will make you want to die."

What about empathy for the residents of southern Tel Aviv?

"I feel for them, they live in a complicated reality, but the soldiers' volunteer work can only help them. If we want to prevent the kids from being party of the crime that surrounds them in the future, the solution is to give them the basic conditions every child deserves. The connection to the soldiers also gives (the children) a feeling of belonging."

Brig. Gen. Agmon claims that there's no contradiction between the southern Tel Aviv residents' protests and taking care of the refugee crisis. "If IDF soldiers stop taking care of the kids, would that solve the problems of local residents? Lieberman, as a senior minister, should be helping the residents, taking care of their hardships, and not inciting. The government should invest in infrastructure and divert funds to local residents that will help them and their sense of security."

The defense minister's office said in response, "The decision is derived of the view that IDF soldiers must perform activities that are part of the consensus, and are not publically disputed, especially considering the fact that in this case the activities were performed among a population that is not here legally. The minister thinks it's more appropriate for IDF soldiers to operate according to the perception that says, 'charity begins at home,' and that they should rather aid Holocaust survivors, the needy, and the elderly."

Noam.Barkan@gmail.com