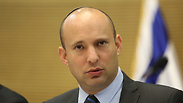 Education Minister Naftali Bennett presented a number of educational reforms on Tuesday which are set to be implemented over the course of the next year, one of which is a new emphasis on teaching children to speak English and compose emails in English. "Less Shakespeare, more practical English."

The announcements came during a convening of the Knesset Education Committee for a special meeting on ahead of the start of the new school semester next week.

He began the meeting by expressing his appreciation for school principals. "I meet with all Israeli principals," said Bennett. "They are the rock of the education system. A good school principal raises the school to unreachable heights, despite all the constraints."

Following a year in which the minister placed a particular importance on teaching mathematics, he outlined his new intentions for the coming year: "This year we are going to put emphasis on English. I want 100% of of the students in Israel to know how to speak English, how to write an email in English so that they can be accepted for any kind of work. Without English, in the next 100 years you have no chance."

Bennett went on to say that "We are also promoting values of love of the nation and of our heritage. We have inserted a Jewish and Israeli curriculum from the third to ninth grade (age 8-15) and we have also doubled the budget to facilitate meaningful tours of the country."

He also announced a year of solidarity with Jerusalem under which "we will bring as many children as possible to Jerusalem."

Overall, the minister said that his aim was to create a climate of stability in the education system. "We will make changes but moderately and gradually. I don't want to irritate the principals. They have been irritated for 20 years of reforms. They told me that there has never been a year more relaxed than the last one," he proudly stated.

Turning his attention to education in the Arab sector, Bennett said that he remained optimistic and that the general direction in which things were going was good, despite admitting that "the situation cannot be described as a good one. Today, there are Arab local leaders and an understanding that the key is in education. "

He concluded by drawing attention to the fact that one of the main inhibiting factors to Arab integration in the Israeli workforce stemmed from the paucity of or complete absence of Hebrew language teaching.

"I conduct many unannounced visits and I see that many students in 11th grade (age 16-17) do not speak Hebrew. How are they going to find work in Hebrew?...We have therefore added a program for teaching Hebrew to children in the Arab sector from third grade," Bennett said.