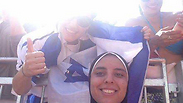 Social media outlets in Egypt are awash with pictures of an Egyptian beach volleyball player posing in a picture with a woman draped in an Israeli flag behind her. The athlete, who in her picture is seen playing in a burkini at the Rio games, claims she did not even know the flag was in the frame.

The Israeli embassy in Cairo shared the image of athlete Doaa Elghobashy, which was then shared by the NGO "Stand With Us," which engages in Israel advocacy.

In the post accompanying the photo, a contrast was drawn between the Egyptian judoka Islam El Shehaby, who refused to shake the hand of Israeli bronze medalist Ori Sasson, and the volleyball player Doaa Elghobashy, who smiled in a selfie with a woman draped in the Israeli flag.

The organization which published the picture claims that the woman standing behind Elghobashy is a Jewish woman who lives in Rio. The organization also noted that "after all the tension between Egyptian and Israeli athletes, it is nice to see that the Olympic spirit pervades in Egyptian athletes."

Egyptian media have tried to figure out whether the athlete who played in the burkini and appeared in one of the most famous pictures of the Olympics, knew she was being photographed with an Israeli flag. "It is a conspiracy against me to try and discredit my name," said Elghobashy, as quoted in an interview with the newspaper Al-Youm a-Saba, who further claimed she never noticed the Israeli flag.

"It isn't possible that I would take a picture with an Israeli, because between these people and ourselves, it is not possible to have peace. The Israeli woman was not with a flag, but when the picture was taken, she hoisted the flag without me knowing. You can see that in the picture," said Elghobashy. She further added that had she seen the flag, she would have refrained from appearing in the photo.

Social media outlets were quick to attack her. In an interview with Masrawy news portal, she stated, "I don't know anything about this picture or the flag. I don't know if it is real or if it was engineered."

"Stand With Us" said in response, "We don't know if the Egyptian athlete was aware that the spectator near her proudly displayed the Israeli flag. Our activists in Brazil sent us this image. However, we are pleased to see coexistence and acceptance between the two countries in the Olympic games, because this is the way things need to be, without politics. Sport needs to unite people from all backgrounds."

The organization sought to clarify that the sender of the picture is not an activist from "Stand With Us," but rather that a supporter of Israel was in the stadium at the same time.