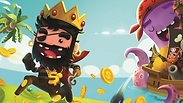 Israel-based Jelly Button Games announced that one of their games, Pirate Kings, has recently crossed the threshold of 70 million players who have downloaded and played the game. As such, the game is officially one of the most popular smartphone games designed in Israel.

Jelly Button Games, which was established in 2011 and whose offices are in Tel Aviv, is one of the most prominent smartphone game companies in Israel. Pirate Kings, their flagship game, is a social game whose object is to build a pirate island, attack other players and steal their treasure. Currency in the game can be earned through a roulette wheel or spending real money. The game is available for android, iPhone and for the computer.

According to the company, 70 million players have downloaded the game and played it since its release. However, the number of active players has not been revealed. About 60% of players come from the US, England, Thailand, Vietnam and Malaysia. In the Arab world, the percentage of players who pay the most are Qatar, the UAE and Kuwait.

In Israel, some 2 million players downloaded and played the game in the last 3 years. The company has not disclosed the exact revenue the game was generated, but does admit it is profitable. The company employs 80 people and is currently working on a new game to be launched in the near future.

The company was founded by Ron Saranga, Ron Rejwan, Alon Lev, Mor Shani and Moti Novo. Lev said, "We started the company because we wanted to do something different, not gambling or cloning another game—we wanted to innovate and have fun."

According to GameIS, the digital games industry association in Israel, there are currently 200 game companies active in Israel. The most successful of all is Playtika, which has produced social casino games. It was sold for $4.4 billion to a Chinese consortium which also acquired Ceasar's Interactive.