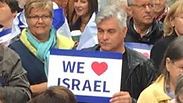 Lapid in Sweden: foreign minister on wrong side of history
A rare pro-Israel rally was held in the Swedish capital Stockholm on Sunday which saw former and current Swedish parliamentarians participate, alongside Yesh Atid Chairman Yair Lapid; Lapid: 'Your foreign minister, stand on the wrong side of history and the wrong side of morality.'
Yesh Atid Chairman Yair Lapid joined hundreds of Swedish Israel supporters in a pro-Israel rally in Stockholm on Sunday. The rally was attended by Swedish parliamentarians, Jewish community leaders, and others.

The rally was held in response to growing anti-Semitism in Europe in general and Sweden in particular on the heels of the BDS movement.

This is the first time a high ranking Israeli official has participated in a pro-Israel rally in Sweden, a country which is considered to be one of the toughest fronts for Israeli Hasbara.

Yair Lapid speaks at Israel rally in Sweden

Anti-Israel voices have grown stronger within the Swedish government in recent months. Amongst these is Margot Walstrom, who's comments on the Jewish state have been borderline anti-Semitic, and have included calls for Israelis to be investigated for the "extra-judicial" killings of terrorists carrying out stabbing attacks in the recent wave of terror.

Dozens of pro-Palestinian activists tried to block the march, waving Palestinian flags and trying to disrupt the speakers.


"If attacks on Jews are completely removed from facts and based on prejudice, there is already a name for it – it's called anti-Semitism," Lapid said at the rally.

The rally was held on a square named after a member of the Righteous Amongst the Nations, Swedish World War II diplomat Raoul Wallenberg.

"Wallenberg saved my father from being murdered by the Nazis," Lapid said. "He had the courage to love and protect the Nation of Israel. Your government, especially your foreign minister, stand on the wrong side of history and the wrong side of morality."

Lapid came out against the Swedish foreign minister's statements blaming Israel for the recent wave of terror. "if the Swedish foreign minister is concerned about human rights in the Middle East, she needs to talk about the use of children as terrorists or human shields, about the discrimination against the LGBT community in the Palestinian Authority, about the incitement going on there against Jews, about the exploitation of Women in Gaza, and about the human rights situation in Iran."

Other people who spoke at the rally were the Chairperson of the Swedish Christian Democrat Party Eva Thor, former Swedish parliamentarian Birgitta Ohlsson, Israeli Ambassador to Sweden Isaac Bachman, Chairman of the Zionist Federation of Sweden Saskia Pantell, and the President of Swedish Jewish Community.