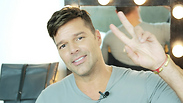 'Get ready to sweat': Ricky Martin to shebang in Israel
Ricky Martin is coming to Israel for what will likely be an energized performance; this will be the first Israeli show for the Latino superstar, who began in a Puerto Rican boy band and achieved international success with his infectious beats during the 90s; 'Israelis and Latinos are very similar, we're very warm,' says Martin, who advises you come to his show ready to move; watch the interview below.
Charismatic singer Ricky Martin is slated to come to Israel for his first ever performance on September 14. "I am extremely excited," he said. "It'll be an amazing event, two hours to forget all the issues in life and just to be yourself."

In addition to looking forward to experiencing the local culture and cuisine, Martin spoke of a deeper connection to Israel. "I also heard it's a very spiritual country, so I will allow myself to go there for a minute when I'm in Israel."

Ricky Martin (צילום: חגי ניצן)

Martin suggested music lovers planning on seeing his show prepare for an exhilarating performance. "Get ready to sweat," he said, smiling at the camera.

"I know that Israelis and Latinos are very similar," added Martin eagerly. "We're very warm, we're very caring, were very open, and I'm really looking forward to that."

The Orlando attack at a gay nightclub last June caused Martin, who officially came out as gay in 2010, to voice his support to the victims, their families and those affected by the massacre. "We can create awareness and write them time and share them with the world."

After gaining local visibility in a Puerto Rican boy band, Martin became an international sensation with hit songs such as "She Bangs," "Livin' La Vida Loca" and his duet with Christina Aguilera "Nobody Wants to Be Lonely." Looking at his career thus far, he is grateful for his achievements and the extraordinary moments he has had. "At the end of the day, I can say I've partied, and I've partied pretty hard," admitted Martin with a boyish half-chuckle. "I'm a man, and I am very curious."

Martin will perform in Israel on September 14 in Tel Aviv.