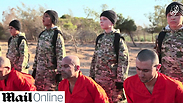 A British man claimed that, on watching an ISIS video, he identified his 12-year-old son murdering a Kurdish man in cold blood.

"JoJo was a completely normal boy who played in the park with his friends. I haven't seen him in over three years, and suddenly I identified him executing a man my age. I have no doubt that he's been through a serious brainwashing," said the father, a resident of Kent.

The 12-year-old JoJo, who has received the ISIS nickname of "the British Abu Hussein," is seen in the execution video wearing a camouflage uniform and brandishing a gun that he points at his shackled victim. Alongside him in the video are four other young boys about his age from Tunisia, Uzbekistan, Egypt and Turkey who are executing their own Kurdish victims.

The blue-eyed boy is seen yelling, "Allah akbar" and grinning after killing the man.

Three years ago, JoJo's mother, Sally Jones, converted to Islam and disappeared shortly thereafter. It turned out that she took her young son along with her to Syria. There, the 47-year-old Jones married a 20-year-old Pakistani who is believed to have been killed in a US drone strike last year.

JoJo's father, who fears for his life should his identity become public, said, We have to find the boy and bring him to Britain, treat him and save him."