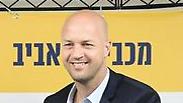 Jordi Cruyff.
Photo: Yair Sagi
Soccer pundits in Israel love to speculate about Maccabi Tel Aviv's sport director, Jordi Cruyff, splitting from his club. How many times have we heard some version of the sentence, "Those close to the team say that Jordi has finalized his departure with owner Mitchell Goldhar," only to find out it was false?

This Dutchman isn't flying away, and no doubt some people are annoyed by the fact that he won't return their calls.

This paragraph would have started with the words "needless to say…" but considering the fact that this conversation keeps reoccurring, there is apparently a need to say it: Jordi Cruyff landed in Israel in 2012, and was initially only spoken of as the son of soccer legend Johan Cruyff. He came to lead Maccabi Tel Aviv, which at the time was a beaten, choked, faded soccer club whose fans were frustrated by constant pain and disappointment. Most of their celebrations came when their team happened to beat city rival Hapoel Tel Aviv, or in years when they somehow managed to win the Israel Cup.

After ending a terrible decade with an impressive league championship, Maccabi won two more in a row, an Israeli treble, and played in the UEFA Champions League once and the UEFA Europa League twice. More than that, Maccabi Tel Aviv became a team that was fun to watch, and moved from a place of irrelevance to a place of dominance in Israeli soccer. Last season, despite the fact that the team missed the mark on its desired achievements, it was in the fight on all fronts till the end. In the last few weeks of the season, it was missing one person Jordi Cruyff, who was mourning his father's passing.

Maccabi Tel Aviv's players certainly claimed Cruyff's absence was a major factor in them losing the championship, which was rightfully earned by Hapoel Beer Sheva last season.

Cruyff also managed to right Maccabi's financial management, giving Goldhar a good return on his investment for the past few tears, perhaps even making him a profit. But what matters it? The self-appointed experts will keep their mockery moving as if by autopilot. The old idea of "Maccabi having the biggest budget in the league" is more nuanced now: Their money isn't just coming from Goldhar's bank account anymore, but – having correctly managed their finances – from their own income streams as well.

They'll also surely blame Cruyff of being "a failure in picking foreign transfer players," even though he hit a bullseye with his coach picks, and even though he signed successes such as Juan Pablo, Predrag Rajković, Rade Pritza, Carlos Garcia, Nikola Mitrović, and even Vincent Enyeama – who was also returned from loan at the right time.

While these experts (in case you were wondering, these are the people whom Cruyff neglects to call back) confidently said his departure is just a matter of time, he conducted the process of Maccabi's separation from superstar player Eran Zahavi, who transferred to Chinese club Gouangzhou R&F in search of the big money; and also brought in Maccabi Haifa's Yossi Benayoun – whose already done more for Maccabi Tel Aviv in his short stint than he did for the past two years in Haifa, signed a foreign coach who looks highly promising, and brought Maccabi back to the Europa League despite its best player's departure.

Now he's signed Icelander Viðar Kjartansson, who seems like an impressive striker, for the next four seasons. Yeah, sure, it definitely looks like Cruyff has one foot out the door.

And we haven't even mentioned the fact that Cruyff has turned Maccabi's dressing room into a more leak-proof facility than the one that allegedly exists in Dimona. Of course, he's made some mistakes (Orlando Sá, Dejan Radonjić, releasing Gil Vermouth for free) and he could make more in the future, but the bottom line is that his time in Maccabi Tel Aviv has been a smashing success so far – even if he leaves tomorrow, as the experts keep predicting.