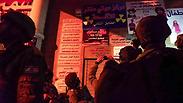 IDF in Dura
Photo: IDF Spokesperson
IDF closes down radio station for incitement
Overnight raid on radio station south of Hebron nabs manager and four employees who have been under investigation by security forces for calling for attacks against Israelis; raid marks uptick in action taken against radio stations which engage in incitement against Israelis.
IDF forces raided a radio station overnight in Dura, south of Hebron, and arrested 5 employees in addition to confiscating technical equipment and transmitters. The radio station had been under investigation by security forces for incitement, specifically, the glorification of terrorists.

The IDF Spokesperson's Unit said that "during the night, in compliance with the central command, IDF forces, in cooperation with Judaea and Samaria District Police, the Shin Bet, and the Civil Administration, raided Al-Sanabel radio in Dura due to incitement. During the raid, forces seized equipment and arrested 5 employees who were interrogated by security forces."

The station called for the reconstruction of the homes of two terrorists from Dura who carried out recent attacks. The homes of the terrorists who carried about the Panorama stabbing attack in Tel Aviv in which two people were killed, and the driver of the terrorist cell which murdered Micki Mark, were both demolished as a result of the attacks. Both terrorists were hailed as heroes by the radio station.

According to military sources, the Al-Sanabel radio station broadcast incitement against Israel, specifically, supporting terrorist attacks against Israelis, praising terrorists who had already committed attacks and "encouraging participation in resistance operations."

Lately, the IDF has been acting against several radio stations in the Hebron area due to incitement.

Last November, security forces raided the offices and studios of Al-Hurriya and confiscated technical equipment and transmitters in order to disable the station. Additionally, forces ordered the closure of the station for 6 months due to incitement. IDF officials said the station had been calling for and praising stabbing attacks and other violent acts against Israel.

Meanwhile, IDF and border police forces arrested 8 other wanted suspects in the West Bank. Six of them were suspected of involvement in terrorist activities and violence against police and civilians. Several are members of Hamas.