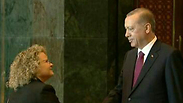 In a gesture meant to send a positive message to Israel, Turkish President Recep Tayyip Erdoğan shook the hand of the interim head of Israel's embassy in Ankara, Shani Cooper.

During the president's traditional handshake with the diplomatic corps to celebrate the country's Victory Day on August 30, Erdoğan asked to welcome Cooper. She presented herself and expressed her nation's support for the Turkish president and republic.

Erdoğan asked for an interpreter via whom he expressed positive messages on the two countries' diplomatic relations and wished Cooper good luck in her position. She has been appointed to head the embassy while Jerusalem and Ankara appoint their first ambassadors to the other nation in six years.

Erdoğan also signed the parliament-ratified reconciliation deal with Israel. On Wednesday, the Israeli government approved the deal after it was circulated amongst the ministers. It comes into effect after one week if there are no objections.