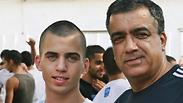 Oron and Herzl Shaul
Photo from a family album
Two years after his son, Staff Sgt. Oron Shaul, fell in Operation Protective Edge, 54-year-old Herzl died from cancer on Friday at 2:45pm.

Shaul had been undergoing chemotherapy in recent months in Tiberius's Baruch Padeh Medical Center, Poriya. He died in the Tel Hashomer Medical Center, with his wife, Zehava, and sons Aviram and Ofek by his side.

Shaul's other son, Oron, was killed along with six other Golani soldiers after an attack on their armored personnel carrier on July 20, 2014 in Gaza City. At the time, Oron was declared missing. Hamas announced that they were holding him, but the IDF leadership found that Oron was no longer alive and declared him a few days later as a fallen soldier whose place of burial is unknown, and his family observed the Jewish rituals of mourning.

Herzl was diagnosed with cancer of the small intestine about one year after his son fell in battle. In recent weeks, he called for increased efforts to return his son's remains to Israel.

IDF Chief of Staff Lt. Gen. Gadi Eisenkot sent his condolences to the Shaul family on Friday in the name of the military. His message stated, "Herzl was the head of an exemplary family. I send a strong embrace to Zehava and to the family during this hard time. About a week ago, I met with Herzl for the last time, and I promised him that we would continue to do everything to return Oron and Hadar (Goldin) home, to a grave in Israel."

President Reuven Rivlin also sent his condolences to the family: "We share in the pain of the Shaul family at the loss of Herzl, the father of the family, who was a tower of strength and determination in the struggle to return Oron home. In our last meeting, I hoped and wished that Herzl would be able to overcome his illness. At this difficult time, Nechama and I send our love and sympathies to Zehava and the children.

"The State of Israel will continue to do all it can to fulfil the obligation upon it to bring Oron to rest alongside his father Herzl."

The family pointed out that they learned of the death of Herzl around 3pm on a Friday—the same time and day that they learned that Oron was no longer alive some two years ago.