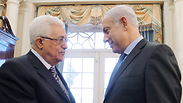 Netanyahu and Abbas
Photo: Getty Images
Palestinian President Mahmoud Abbas has reportedly agreed to direct talks with Prime Minister Benjamin Netanyahu in Russia, Interfax news agency cited the Palestinian embassy in Moscow as saying on Monday.

Netanyahu's office said earlier on Monday the prime minister was considering an offer by Russian President Vladimir Putin to host the talks between the Israeli leader and Abbas.

It said in a statement that Netanyahu, at a meeting with Russian Deputy Foreign Minister Mikhail Bogdanov, "presented Israel's position whereby he is always ready to meet (Abbas) without preconditions and is therefore considering the Russian president's proposal and the timing for a possible meeting."

The report comes shortly after President Putin stated his willingness to host direct talks between the two sides in August. According to information obtained by Ynet, the talks are likely to take place in October.

Putin's announcement was also preceded by Egyptian President Abdel Fattah al-Sisi's attempt to kick-start peace talks, suggesting that Ciaro be the meeting point.

Despite the reported agreement by Abbas and Netanyahu's repeated calls for renewing negotiations without preconditions, the PA president is insisting that on a construction freeze in the West Bank and a discussion which will establish a timetable for what he describes as "the end of the occupation" prior to the commencement of talks.

The last Israeli-Palestinian peace talks collapsed in 2014.