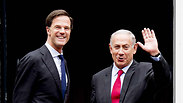 Netanyahu and Mark Rutte
Photo: AFP
Netanyahu at The Hague: 'I am ready to meet with Abbas'
At a press conference in The Hague during a state visit by Prime Minister Netanyahu, he sought to clarify any confusion surrounding possible direct talks to be held in Moscow with Mahmoud Abbas; 'I am not picky about the place. I am ready to talk with no preconditions.'
Prime Minister Benjamin Netanyahu commented on statements made by Palestinian Authority President Mahmoud Abbas claiming that he had agreed to a meeting in Moscow but Netanyahu had asked that it be delayed.

"I am ready to meet with Mahmoud Abbas any time with no preconditions to engage in direct talks," Netanyahu said at a press conference at the Hague with the Dutch Prime Minister Mark Rutte. "This is something which I have said hundreds of times and I will repeat it again and say here: I am not picky about the place—whether it is here in the Netherland's or in Moscow is no problem. It can absolutely be in Moscow. I said this to President Putin and I also said this to the Russian envoy Bogdanov just yesterday."

Anti-Israel protestors demonstrate against Netanyahu in the Netherlands (צילום: רויטרס)

The prime minister went on to express doubt about Abbas' willingness to meet directly, citing his insistence on preconditions as the main stumbling block to talks.

"The central question is whether Mahmoud Abbas is ready to meet without preconditions. We hear conflicting versions. Just yesterday Palestinian spokespersons said that they were ready to meet but that they have conditions—the release of prisoners—and they want to know in advance what the results of the talks will be," Netanyahu said.

"If Mahmoud Abbas wants to meet without preconditions for direct talks I am ready any time. I have been calling on him to do this for seven years already and if he agrees to do so there will be a meeting," he declared.

Netanyahu's comments come shortly after Abbas said on Tuesday that a proposed meeting in Moscow would not be held for now.

"President Putin has proposed a meeting on September 9 in Moscow. I agreed to this and I was to go to Moscow directly from here," Abbas told a joint news conference with Polish President Andrzej Duda in Warsaw.

"Unfortunately yesterday in Jerusalem President Putin's representative and Prime Minister Netanyahu's representative held a meeting and Prime Minister Netanyahu's representative proposed to postpone the meeting for later, so there will be no meeting (on September 9)," Abbas said.

Confusion about whether any such meeting would take place was rife as rumors circulated following a Monday report by the Russian news agency Interfax which suggested that the Palestinian embassy in Moscow had stated that the PA president had indded agreed to meet with the prime minister.