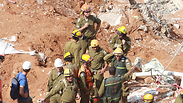 IDF search and rescue forces
Photo: Dana Kopel
Knesset holds emergency session on Tel Aviv parking collapse
In the wake of the parking garage collapse in Tel Aviv, the Labor and Welfare Committee of the Knesset is holding an emergency session with the CEO of the company that built the parking structure; 'There is serious negligence in the construction sector.'
The Labor and Welfare Committee of the Knesset held an emergency session on Thursday with the CEO of the construction company that built the parking garage that collapsed, Ronen Ginzburg of Danya Cebus, to discuss the circumstances surrounding the collapse of the structure.

Kulanu MK Elie Elalouf, the committee chairman, said "The committee sadly foresaw this. We held seven hearings on the situation. We saw that there is serious negligence in the construction sector. No one held a discussion on the required preparations for the massive amount of construction going on in the country, which is only expected to grow. We've also seen the lack of preparedness on the part of government ministries."

Joint List MK Ahmed Tibi advised Ginzburg "to hire an image consultant because your image is in the gutter, and rightly so. The worst thing about death is the family having to see the person responsible acting arrogantly. I suggest you be more modest when you speak as people are in profound grief."

Danya Cebus decided to hire the services of an architect, not an engineer, to manage the project at a cost of NIS 64 million to save money. In an interview with Ynet's finance publication three years ago, Ginzburg said, "We took an architect to manage the construction of the underground parking lot in Tel Aviv. He knows planning and environmental problems and can solve them faster than an engineer, who is really just a technical person who is responsible for the building not collapsing."

Ginzburg said that in many cases architects are also the chief designers, in addition to being project managers, in order to save operations costs. "The parking garage project for example saved 2-3 percent of project costs. In projects such as apartments, this can save 2-3 percent of the apartment's cost."

As rescue operations enter into their fourth day, the body of Oleg Yakubov, 60, who was among those killed in the collapse, was identified at the Abu Kabir Institute of Forensic Medicine Wednesday. The bodies of Denis Dianchenko, 28, a Ukrainian citizen, and Iyad Rimawi were also identified.

Homefront Command search and rescue forces are currently making their way to the lowest level of the parking garage to search for anyone else still trapped.