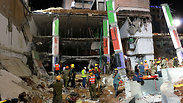 Collapsed parking structure
Body of fourth Tel Aviv parking garage collapse victim located at disaster site
Four days after the deadly parking garage collapse in the Ramat Hahayal neighborhood in Tel Aviv, a fourth body has been located by IDF search and rescue teams; a fifth body is currently being searched for beneath the rubble.
The IDF Homefront Command has located a fourth body out of the rubble of the collapsed parking garage in Tel Aviv on Friday. The soldiers are working to pull the body from the rubble.

Search and rescue operations are continuing in areas where it is believed that survivors may still be trapped. Rescuers believe that there is one body left in the rubble, however, it has yet to be located.

Those who have been killed so far are named as: Oleg Yakubov, 60, from Tel Aviv; Iyad Rimawi, 34, from Rima; and Dennis Dyachenko , 28, from Ukraine.




A four-level subterranean parking lot in a building site on HaBarzel Street in the Ramat Hahayal neighborhood of Tel Aviv collapsed Monday morning. At least two persons have been killed while several are said to be missing and 23 were injured.

Rescuing one of the trapped workers (צילום: רס״ר ניסים אבו חצירה, ימ״ר כבאות והצלה)

In 2012, Africa Israel won the contract from the Tel Aviv Municipality to build the parking garage next to Assuta Hospital. Yet before construction even began in 2014, the CEO of Danya Cebus, the subsidiary company carrying out the construction, Ronen Ginsburg, described in a 2013 interview how the company was chosen to carry out the project. He explained to the Calcalist, Ynet's sister publication. that they chose to use an architect rather than an engineer to save money.

The Labor and Welfare Committee of the Knesset held an emergency session on Thursday with the CEO of the construction company that built the parking garage that collapsed, Ronen Ginzburg of Danya Cebus, to discuss the circumstances surrounding the collapse of the structure.

Kulanu MK Elie Elalouf, the committee chairman, said "The committee sadly foresaw this. We held seven hearings on the situation. We saw that there is serious negligence in the construction sector. No one held a discussion on the required preparations for the massive amount of construction going on in the country, which is only expected to grow. We've also seen the lack of preparedness on the part of government ministries."