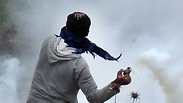 Palestinian stone thrower killed
Photo: AP
GAZA- An 18-year-old Palestinian was killed during a riot near the Israel- Gaza border on Friday. A Palestinian health official said Israeli soldiers shot him, but the Israeli army said troops were not responsible.
Gaza health ministry spokesman Ashraf Al-Qidra said Abdel-Rahman Al-Dabbagh was killed by an Israeli bullet to the head during the border clash in the central Gaza Strip.
The Israeli military said troops had sought to contain the violence on the other side of the border fence and had used only tear gas.
"Dozens of rioters breached the buffer zone and attempted to damage the security (border) fence. ... Forces stationed at the border used tear gas that led to the dispersal of the riot. Following a preliminary review, the Israel Defense Forces did not conduct the reported shooting," a military statement said.
In violence since October in the occupied West Bank and the Gaza Strip, at least 210 Palestinians have been killed, 141 of whom Israel said were assailants. Others died during clashes and protests.
Palestinians, many of them acting alone, have killed at least 33 Israelis and two visiting Americans.