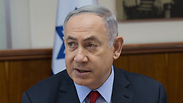 Prime Minister Benjamin Netanyahu. The Bibi who shoots the truth and infiltrates minds and hearts
Photo: Ohad Zwigenberg
A short video in which every word is accurate and sharp. And the words connect to sentences. And the sentences, with the melody they are pronounced in, create a full picture. And the picture makes sense: It's Bibi at his best.

It's been a long time since I was so thrilled with Bibi. Not the hesitant, scared Bibi, who seeks to please, but the Bibi who shoots the truth and infiltrates minds and hearts. Supporting the two-state idea means supporting ethnic cleansing. The vision of two states for two people, which US President Barack Obama has made such an effort to advance, includes the creation of a "judenrein" area. That's what you call a territory where no Jew can set foot.

One can call it evacuation, one can also call it disengagement or realignment, even a peace process – but at the end of the day there is a reality. The language laundering cannot blur reality. We have already met this reality in the horrible injustice of expelling 5,000 Jews from Gush Katif and turning Gaza into a place where no Jew can set foot.

Whoever supports the idea of evacuating my five childen, a third generation in Ofra, from their home, supports a criminal act. That is what you call the transfer of 100,000 people – grandparents, parents and children. My children are the children of the mountain. Their right to continue to live in the place they were born in is as strong the right of the children of Ein Yabrud, the neighboring village.

Any place Israel has withdrawn from, allowing the Palestinians to control it, has become a place Jews should not enter. Every day I pass by a sign – white letters on a bright red background – warning Jews not to enter Area A. Israeli Arabs pass the sign and enter Ramallah freely. Why? Because while the sign talks about Israelis, what it really means – below the political correctness – is that Jews are barred from entering. Why? Because a Jew who accidentally enters Ramallah will return to his family in a coffin. Are there areas in Israel where Arabs are barred from entering? No. Is there an area in Israel where Palestinians are barred from entering? No.

Every day hundreds of thousands of Palestinians come to work in Israel, and every Friday thousands of Palestinians are allowed to enter the Temple Mount. Are there places in Judea and Samaria, in areas controlled by Israel, that Palestinians are barred from entering? No. Every day tens of thousands of Palestinians seeking an honest living enter the joint industrial zones and even the settlements. I have never entered Ramallah, but Ramallah residents enter Ofra. Because under Israeli rule there is coexistence, and under the rule of Ismail Haniyeh and Mahmoud Abbas there is a duel.

I believe the conflict in the Middle East can be solved and that days of peace will arrive, but real peace cannot be based on a transfer, neither of Arabs nor of Jews.