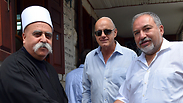 Avigdor Lieberman with the Druze community
Druze MK: Israel must protect Druze from Syrian Islamists
As the former al-Qaeda affiliate and other Islamist extremists inch closer to Syrian Druze villages just yards away from the border with Israel, Israeli-Druze MK Hasson calls on the defense minister to ensure the Syrian Druze community's safety.
There is fury and fear amongst Israeli-Druze as Jabhat Fatah al-Shams (formerly Jabhat al-Nusra) continues to capture territory in the Syrian Golan Heights, and approaches the Druze villages there.

The Druze are considered apostates, or "takfiri" by Jabhat Fatah al-Shams, and will be massacred should the terror group reach their villages.

Druze MK Akram Hasson (Kulanu) called on Defense Minister Avigdor Lieberman (Yisrael Beytenu) to protect the Syrian Druze in the Syrian Golan Heights in a Facebook post on Sunday.

"Jabhat al-Nusra will commit a massacre against our brothers in Syria, and we won't sit by quietly. Lieberman needs to wake up.

MK Hasson claims that Jabhat Fatah al-Shams never tired to get close to the Druze villages until recently because they were afraid of an Israeli response. The MK's post has garnered thousands of likes and shares.

Hasson said in an interview that "…Lieberman changed policy, and the IDF has begun to abandon our brothers in Syria."

Israeli-Druze spiritual leader, Sheikh Moafak Tarif, also expressed his fears over the fate of the Druze in Syria.

"If a massacre occurs, it will be an embarrassment and a disgrace to us all. Israel must warn the terror group against harming Druze. The only request the Druze have is to live in peace and quiet."

"The IDF is able to do what needs to be done to prevent an attack on the Druze – even from afar," he said.

Hundreds of Druze made their way to the Druze village of Majdel Shams in the northern Golan Heights, where they held a solidarity rally with their Druze brothers across the border in Syria.

The Defense Minister's Bureau responded, saying "this is absurd and worthless, and the whole point is for this unknown MK to make headlines. The IDF, at the behest of the Minister of Defense, to work to prevent the spillover of the Syrian civil war into Israeli territory, to keep the quiet on the northern border, and to keep the quiet of the citizens residing there. The Druze in Syria know that Israel is not indifferent to their fate.