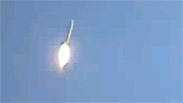 IDF clarifies that Syria missed its targets when shooting at an Israeli warplane
The Syrian army issued a statement Tuesdy, saying that it has shot two surface-to-air missiles at an Israeli warplane and drone—managing to strike down the plane—following the IDF's shooting into Syria southwest of the city of quneitra. The IDF responded by clartifying that Syria did not, in fact, shoot down an Israeli plane, but that it had missed its targets.

Golan Regional Council Head Eli Malka commented on the incident, saying, "There is no difference between a spillover and an intentional shooting. The bomb is the same bomb and brings about the same life-threatening situation. It is the responsibility of the defense minister, the prime minister and the IDF to convey a clear message to everyone on the other side of the border that any mortar or shell that falls in the Golan will constitute an intentional attack against Israel, and that the IDF will carry out a powerful response intent on destroying the source of the attack and harming any force they might belong to."