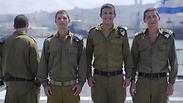 Two years and five months in one of the IDF's most intensive courses
Photo: IDF Spokesperson's Office
Around 30 soldiers graduated recently from the 133rd class of the Naval Officers' Course, completing one of the longest and most prestigious trainings in the Israel Defense Forces. Starting next week, the new naval officers will join the combat command on the Navy's different vessels.

The graduates of the latest course include four athletes who decided to drop everything, give up on a promising professional future, and instead dedicate almost eight years of their lives to a meaningful military career, replacing their athletic kit with the white Navy uniform.

A Naval Officers' Course lasts two years and five months. The cadets' physical and mental strength are tested through numerous physical challenges, on land and at sea. During this time, they undergo field and naval training, take different courses, become familiar with the Navy's security operations, gain experience in command and even complete an academic degree.

Graduation ceremony for 133rd class of the Naval Officers' Course (צילום : אביהו שפירא)

This course is rightfully considered one of the most intensive courses in the IDF. In fact, a naval officer's training is based on placing the cadet in difficult situations to strengthen his physically and mental capabilities. The future naval officer has many challenges and must therefore train accordingly and prepare himself for different scenarios. In addition, running, navigation marches, swimming and rowing are routine activities, leading to a high dropout rate.
Part of something bigger
The world of sports has been part of First Lieutenant Ohav Givati's life from an early age. "I became involved in sports at a very young age because of my love of soccer," he says. "It began on the grass at home and continued with the position of a children's football coach later on. I turned my love of fitness into a profession. I took a trainers' course at the Wingate Institute and became a gym instructor at the age of 16." He also joined Maccabi Haifa's rugby team and even Israel's national rugby team.
"We started the team from scratch, just two people, me and the coach, and we slowly grew. At a certain stage we began winning local competitions," he says. "For me, reaching the national team after two years was a real achievements in light of the fact that there were athletes there with greater seniority and experience than me."
He decided to take the naval officer's path rather than focus on sports because of the significance and self-fulfillment the position brings. "In the end, everything you collected over the years—all that knowledge—is invested in a very important goal. You realize that you are part of something much bigger than winning or losing a match, which is also very important," he adds.
According to Ohav, rugby and the Naval Officers' Course have several elements in common, such as persistence, tenacity and the ability to get up after falling down. "These are two things I take with me from these places in my life, moments in which you learn to persist despite the pain and the difficulties, and even though it seems like there is no chance—moments in which you must become stronger inside. These are not necessarily physical things; not necessarily who runs faster or who carries a heavier weight. It's the tasks they give you and days-long journeys which end with you facing yourself and moving on."
As for the future, Ohav is interested in the field of education but prefers to focus, for now, on the reality of his current role. "Before the army I did a lot of hip hop and taught children in schools. I was captivated by it. I am considering working in education after the army and combining it with hip hop music, but for the next five years I still have a lot to give and to develop in other fields."
'The sea was part of my life then and still is now'
First Lt. Imri Katz has a natural connection to the sea thanks to his past as a professional windsurfer. "I began surfing at the age of 10 during a summer camp," he says. "The hobby slowly became more and more serious. Over the years, I combined surfing training with fitness training and started making progress."

Imri advanced in the different fields, and after a series of tests he was accepted to the Israeli windsurfing team and represented Israel in the World Championship and the European Championship, where he came in seventh and sixth place, respectively.

But he had other plans for his future. "In the 12th grade, I was supposed to move up to the adult team. At that stage I had already decided not to continue," he says of the decision to end that chapter in his life. "I wanted my military service to be meaningful," he notes.

Imri began the Naval Officers' Course without knowing what to expect, but was surprised to meet other cadets who also came from the field of windsurfing. He says the world he got used to half of his life is very similar to what he is experiencing today. "The sea was part of my life then and is part of my life now," he explains. "I have the wind, the sun, the breeze and the waves, and I don't need anything else."

Asked whether his past experience gave him any advantage during the course, Imri mentions the first stage of the course which involves basic seamanship and many difficulties. "Many will say it's the most difficult stage of the course, but my experience and my connection to the sea helped me very much," he says. "There were a lot of mental difficulties, all kinds of extreme situations one must deal with just like in sailing competitions. These are stressful things and one has to know how to deal with them and do his best."

The surfing also helped with the physical aspect. "There are many physical difficulties in the course. My connection to sports gave me a relative advantage in an area I feel at home in. As far as I'm concerned, put me in the water and do whatever you want (with me)."

The most important thing to him is educating the IDF's future generation. "For me, commanding is the main thing," he says. "The course also gives you other tools, command tools and values so you could really give the fighters everything you can."
'The most challenging thing I have ever done'
The ability to work together as a team and the drive to win are important qualities in the future naval officer's toolkit. So it's no surprise that First Lieutenant Arad Cohen, one of the cadets who graduated from the recent course, used to be a professional soccer player.

"I played soccer from the first grade to the 12th grade," Arad says. "I was in several teams in the city I grew up in, Ness Ziona, as well as in Rishon Lezion, and for a while in Hapoel Tel Aviv. I played in a variety of positions, mainly left guard and defender."

Ahead of his military service, Arad faced a dilemma: Should he give up on having a significant service or end the soccer chapter of his life? "If you want to be a footballer during your military service, you definitely can't be a fighter or even work in an office," he explains. "The constant training requires a very uncommitted role such as quartermaster, so you could dedicate most of the day to training. I decided to go for the army in full force with a significant position, both for me and for my grandfather, Ra'anan Cohen, who was a military man and a minister on behalf of the Labor Party."

Although he was accepted into the adults' team at the age of 17, Arad chose to start preparing for his military service and found his way into the Naval Officers' Course.

"The course was the most challenging thing I have ever done in my life," he confesses. "The field of soccer is very intensive too, but it requires a completely different mental level. Despite the physical difficulty, the mental level is tougher: Being away from your family, discovering how you operate in a group, how you command a team, and how you function compared to others. This entire process is difficult and challenging."

During the course, Arad dealt with a variety of difficulties which he sees as a real test of the friendship that develops between the cadets during the course. "The course lasts two years and five months, and that's a period in which you get to know every friend closely and share the same difficulties: Some on the professional level and some more personal," he says. "Friends get a lot of points in their favor for being there for each other throughout this entire time."

In the future, Arad wants to study economics or business administration, but in the meantime he is leaving all options on the table. "At the moment, my goal is to do my job as best as I can and with the highest aspirations. In the coming years I will make my decisions."
Physical, intellectual and mental difficulties
A few years ago, First Lieutenant A. was an ice hockey player. Today, he is a Naval Officers' Course graduate specializing in submarines, but his attraction to challenges began much earlier.

"My love of sports did not start with ice hockey, but with judo. The hockey eventually became more significant," he says. He kept nurturing his love of ice hockey and reached several achievements. "Over the years, we participated in competitions and even won the Israeli championship one year."

Physical training at the Naval Officers' Course

Ahead of his military service, A. decided to drop the sport he considered a hobby and focus on his future in the IDF. "I was more enchanted by the army," he says. "Friends of my family who were senior officers in the Navy got me interested in the position, and the moment I began the process it just all took its course."

During the course, he experienced physical, intellectual and mental difficulties, as well as the difficulty of being away from home. "The course is both physically and intellectually difficult. There is a lot to learn, to train. They try to break you in different ways, so the dropout rate at the first stage is very high. More than 50 percent drop out eventually."

At the moment, First Lieutenant A. is planning to advance in the chain of command. As for the more distant future, he hasn't decided yet. "There are a few more years before I become officer of the platoon I enlisted for. After the army, I believe I will keep the naval hobby. Right now I don't have much time for hobbies."