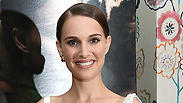 Natalie Portman
Photo: AFP
Toronto — Natalie Portman is a woman of the world. Just a few weeks before her film A Tale of Love and Darkness (in which she stars in Hebrew) is released in the US, the 35-year-old actress has come to the 35th Toronto International Film Festival with two new films: Rebecca Zlotowski's Planetarium (in which Portman speaks French) and Pablo Larrain's Jackie (in which Portman plays the style icon and former first lady). A woman of the world, but for us Israelis, she'll always remain one of our own. She was born in Jerusalem, after all, studied here and shot her first directorial project here.

Alongside the enthusiasm over Portman's extremely productive working year, one can also rejoice over the news that she is in her second pregnancy with her husband, the French choreographer Benjamin Millepied. The physical signs are already apparent, and the day when their firstborn son gets a brother or sister isn't far off.

Portman jealously guards her privacy, but she's aware that in the State of Israel, many follow her private life. And the news of her pregnancy was received happily by her local fans, who view her as a national asset. In a conversation with Ynet, Portman said that she appreciated the good wishes and happily receives the embrace that the nation of her birth has extended to her.

Natalie Portman on Jackie (צילום: אמיר בוגן)

The start added that this warmth is what she loves about Israel, with everyone feeling like part of the family who both get involved to a fault in others' affairs, but who are always ready to help, just like one's nuclear family.

Jackie dramatizes the days in Mrs. Kennedy's life in the days after John F. Kennedy's assassination on November 22, 1963.