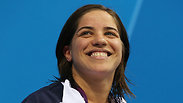 Inbal Pezaro
Photo: Getty Images
Inbal Pezaro brings another medal to Israel after taking bronze in the 200 meter individual medley with a time of 3.38.20.

Pezaro, 29, swam in the fifth lane after qualifying for the finals with a time of 3.37.62. Pezaro was one of Israel's best hopes for bringing another medal in her fourth Paralympic games.

Pezaro comes in third (צילום: באדיבות ערוץ 1)

Pezaro's medal count before Rio stands at four silver medals and four bronze medals. Currently, she is in third place on Israel's list of Paralympic medal holders tied with Baruch Hagai, who also has nine medals, eight of them gold.

Born in Kibbutz Yizre'el, Pezaro suffered from a vascular complication in her spine, which left her paralyzed in her lower extremities. At the age of five she began to swim at the Ilan Center in Haifa. Six years later, she became a professional and has since competed in international competitions. Her rapid advances in international competitions by the age of 12 allowed her to make her Olympic debut in Athens in 2004.

Over the last 14 Paralympic games, Israel has an impressive 380 medals, 124 of which are gold.