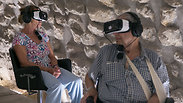 VR visitors
Photo: Ohad Zwigenberg
Ten million visitors come every year to the Western Wall to view the sole remaining part of the Second Temple complex. Now, the Western Wall Heritage Foundation is presenting a new, high-tech way for visitors to see the complex and Temple in their entirety.

באדיבות הקרן למורשת הכותל

The foundation is offering a virtual reality tour of the site as it appeared two millennia ago. The visitors remain seated and put on goggles and headphones to be immersed in the 360-degree experience.

Up until this point, the foundation has organized tours of the Western Wall tunnels and archaeological excavations, but only for organized groups that set them up in advance. As the new virtual reality tour is individual, lone visitors can take part.






The experience brings visitors to the time of the Second Temple, permitting them to view the pilgrims and priests at work and to visit the important sites on the Temple Mount. These include Robinson's Arch in the southwestern corner, the Royal Stoa, the courtyards of the Temple and the sanctuary.

The tour and technology was developed by ArchTour. Historians, rabbis, and archaeologists carried out comprehensive research on the structure of the Second Temple to provide the most accurate representation possible.