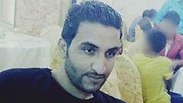 Jordanian Foreign Ministry condemns killing of Jerusalem terrorist
A day after Sayid Amro was killed while trying to stab border police officers in Jerusalem, the Jordanian Foreign Ministry, the Muslim Brotherhood and the Amro family all condemned the killing and demanded an immediate return of the body as well as an investigation; 'The minimum the Jordanian people expect from the government is to close the Israeli embassy in Amman.'
The Jordanian Foreign Ministry strongly condemned the killing of terrorist Sayid Amro on Saturday after he was shot to death while attempting to stab a border police officer at the Damascus Gate in Jerusalem on Friday. The Jordanian Foreign Ministry response said the "killing is an act of barbarism," and questioned the Israeli version of events.

The Jordanian Foreign Ministry added that they are following details closely and are working to ensure the return of Amor's body to his family.

Amro's family held a protest Saturday to demand the return of Sayid's body from Israel as soon as possible. Family members blocked streets and burned tires to pressure authorities into acting quickly. The family was also interviewed by kingdom media and demanded an investigation into the circumstances surrounding the incident. Amro's family claimed he held no extremist views and did not belong to a political party. According to them, Sayid went to Jerusalem to visit family members and pray at the al-Aqsa Mosque.

The Islamic Action Front, the political arm of the Muslim Brotherhood in Jordan, also strongly condemned what it called "the execution of a Jordanian citizen, Sayid Amro, in the land of Palestine." A message from an organization member said "The minimum the Jordanian people expect from the government is to close the Israeli embassy in Amman."

Amro, 20, entered Israel Friday and was shot and killed the same day after running at border police officers with two knives in his hand and attempting to stab them. One of the police officers was hurt. A police investigation into the incident revealed that before attacking the officers, Amro shouted "Allahu akbar" before being shot and killed.