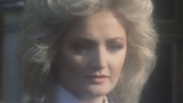 Welsh singer Bonnie Tyler—known for hits like "Holding Out for a Hero," "Lost in France" and, of course, "Total Eclipse of the Heart"—will perform two concerts in Israel in February.

The first concert will be held on February 6, 2017, at the Tel Aviv Port's Hangar 11 venue, and the second on February 7, 2017, at the Culture Palace in Tel Aviv.

Ticket prices will range between NIS 199 to NIS 499.

Tyler was born Gaynor Hopkins in Skewen, Wales. She came to prominence with her 1977 album The World Starts Tonight and its singles "Lost in France" and "More Than a Lover."

Her biggest hit song is "Total Eclipse of the Heart," the lead single from her 1983 UK chart topping album Faster Than the Speed of Night. Another hit song, "It's a Heartache," reaching number 4 on the UK Singles Chart and number 3 on the US Billboard Top 100.