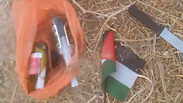 Knife and Molotov Cocktails found
Photo: Israel Police
Palestinian youth found with Molotov Cocktails and knife
Amid IDF fears of a reinvigorated wave of terror, Israel Border Police find a Palestinian youth carrying a knife and Molotov Cocktails in the Jordan Valley; Israel presents video footage to Jordan showing one of its citizens brandishing 2 knives, debunking claims that IDF shooting was an 'act of barbarism.'
A young Palestinian boy was found in possession of two Molotov Cocktails and a knife on Sunday afternoon during a search conducted by Israel Border Policemen.

The boy aroused the security personnel's suspicion after they spotted him watching them at a base located in the Jordan Valley. The police believe that the boy intended to carry out an attack against Israel Border Policemen situated in the area.

The suspect, a resident of Aqabat Jaber—a Palestinian refugee camp in the Jericho Governorate—was taken in for questioning.

The discovery comes just hours after a Palestinian terrorist stabbed a reservist officer at a guard post in the settlement of Efrat early Sunday morning, following a weekend surge in Palestinian attacks that shattered weeks of relative calm.

Following an incident which took place over the weekend, Israel presented further video evidence to Jordanian officials showing terrorist Sayid Amro brandishing two knives and threatening civilians passing by at the Damascus Gate on Friday.

The new footage was presented to the Jordanians following their accusation that "the killing was an act of barbarism."

Terrorist brandishing 2 knives at Damascus Gate

The Jordanian Foreign Ministry confirmed that the body of Sayid Amro was transferred to Jordan and will be turned over to the terrorist's family for burial.

According to Jordanian Foreign Ministry spokesman Sabah al-Rifai, "We are continuing to follow every detail of the occupation army shooting incident."

In light of the latest upsurge in terror attacks, Prime Minister Benjamin Netanyahu held a security briefing for the Jewish High Holidays on Sunday during which he decided to increase the police presence in Jerusalem's Old City and on the Temple Mount. He said that the aim was to act decisively against any attempt to disturb order.

He also requested that the Speaker of the Knesset, Yuli Edelstein, continue to act to prevent MKs and Ministers from visiting the Temple Mount.

During the meeting, the Prime Minister also directed personnel to continue to act against Palestinian incitement on social media, including Facebook and other platforms. Furthermore, Netanyahu requested a response team be set up to counter disinformation regarding Israeli policy on the Temple Mount.