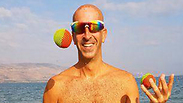 WATCH: Israeli man swims across the Kinneret while juggling
Inspired by a man who did a triathlon while juggling, Shahar Cohen decided he wanted to cross the 3.5 kilometers of the Sea of Galilee doing the same. The achievement is all the more impressive considering Cohen slipped a disc only five months ago.
While many can boast that they swam across the Kinneret, only one person has traversed the lake while swimming backstroke and juggling balls at the same time.

"It all started when I saw someone doing a triathlon while juggling. He was the first person in the world to do that," said 46-year-old Shahar Cohen, who juggled his way across 3.5 kilometers of freshwater on his back this past Saturday.

"At first, I decided to try running while juggling, and I did half of the Tel Aviv marathon that way," Cohen went on to say. "Later, I realized that someone swam 400 meters (during their triathlon) while juggling, and I challenged myself to go a much greater distance and be the first to swim the Kinneret on my back while juggling."

Shahar Cohen swims across the Kinneret while juggling (באדיבות אתר שוונג. צילום: דני שכטמן צילומי אוויר)

Cohen, who sells juggling products, said that it might seem easy, but that's not the case.

"I remember that when I first started (training), I couldn't stay balanced, I lost balls, and swallowed water. I only managed to go a few meters, I didn't train regularly, and I wasn't serious at all," he recounted.

"But then I was on a roll and started managing to balance myself, so I told myself that as soon as the opportunity presents itself—I'll try it. I saw the registration for the (annual) Kinneret Crossing. The organizers, were really skeptical about it at first. But later they gave me their full support and encouraged me. I hope that more and more people become interested in (juggling) now."

Cohen's achievement is all the more impressive when considering the fact only five months ago he was bedridden after suffering from a slipped disc.

"I remember that I couldn't move, and then I went to some event at the Kinneret," he said. "I was there for three days and started training for it there... To say this was a form of physiotherapy is putting it mildly. Almost all of the training revolved around balance and being comfortable in the water. It really rehabilitated my body and my back in unbelievable ways."