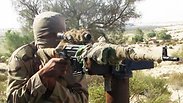 Israel issues travel warnings for Turkey, Sinai
The High Holy Days are a favored time for terrorists to try and commit terror attacks; the Israeli Bureau for Counter Terrorism has issued travel warnings against various countries, and recommends Israelis maintain constant vigilance in the face of ISIS threats around the world.
Terrorists are likely to try to carry out terror attacks over The High Holy Days. The Counter Terrorism Bureau of the Prime Minister's Office said that although there is no concrete evidence of a potential terror attack, it is a favored time for terrorists to try and commit attacks against Jewish and Israeli targets in Israel and abroad.

The Bureau is asking that the public increase its awareness and maintain its vigilance in public places outside of Israel where ISIS attacks are known to happen, such as stadiums, sporting events, cultural centers, nightclubs, malls, hotels, airports, and major public transportation hubs.

ISIS is expected to continue to carry out attacks worldwide, especially in light of its heavy losses of territory in Iraq, Syria, and Libya.

The Bureau also re-issued a severe travel warning to Turkey despite the reconciliation agreement between Turkey and Israel. The Bureau recommends that Israelis mitigate travel to the country due to the continuing attacks occurring there. However, a high ranking official in the Bureau said that there is no specific warning against connecting flights in Istanbul, as long as the passengers stay inside the sterile airport area.

There is also a serious travel warning against going to the Sinai Peninsula. "Due to the security situation in the area and the ongoing acts of terror there, especially in the areas of Sinai controlled by ISIS, it is recommended mitigate all travel to the region." The Bureau official said "the situation in Sinai is really bad. The area is a terror front."

There is also a threat to Western interests in Africa in general, along with Israeli sites and interests, specifically businesspeople, companies, and malls. Several jihadist groups operate on the continent, including; al-Shabab based in Somalia; Boko Haram based in Nigeria, Niger. Chad, and Cameroon; and ISIS and al-Qaida in North Africa, especially in Tunisia and Morocco.

Other warning which are still in place include in south Thailand, Kashmir in India, and Mindinao Island in the Philippines due to political unrest.

Overall, there are travel warnings against 34 countries including six countries which are illegal to enter (Lebanon, Syria, Iraq, Saudi Arabia, Yemen, and Iran).