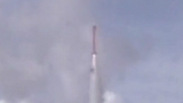 The Barak 8 (Archive photo)
Photo: Courtesy of DRDO
India conducts successful test of Barak 8 missile system
The Israeli surface-to-air missile system, designed to handle various aerial threats, has once more been successfully tested by the Indian government on Tuesday; system's capabilities could prove vital in possible future Israeli conflict with Hezbollah.
The Indian government performed another successful test of the Israeli Barak 8 surface-to-air missile (SAM) system Tuesday. More tests are expected to be conducted in the near future, according to a scientist from the Defence Research and Development Organisation.

The Barak 8 ("Lightning 8" in Hebrew) system is designed to handle various forms of aerial threats. The interceptor missile was launched from the Chandipur research and development base in Odisha, an eastern Indian state on the Bay of Bengal. The experiment, Indian media sources report, began at approximately 7:45am Israel time (10:15am India time).




With a weight of about 270 kilograms, the new interceptor missile's length is 4.5 meters and has a carrying capacity of around 60 kilograms. It can fly at Mach 2—approximately 2469.6 kmph— and is capable of striking targets at a distance of up to 70 kilometers. It has the capacity to identify and neutralize rockets, planes, UAVs, helicopters, and even has the ability to intercept several targets in a single flight.

One of the Barak 8's most technologically advanced aspects is its ability to intercept missiles aimed at sea-bound vessels—an function that could come in handy for Israel in the event that it ever becomes entangled in another conflict with Hezbollah—which, during the Second Lebanon War, demonstrated its ability to target Israeli ships with its missile strike on the INS Hanit.