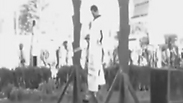 Screenshot from the newly-discovered video.
Fifty-one years after Israeli spy Eli Cohen was executed in Damascus, a Facebook page named 'Syrian art treasures' has published video footage that appears to show the execution, which took place on May 18, 1965.

The video, just under two minutes long, shows the crowd gathering, and Cohen's body being placed in a coffin, which is then placed in a vehicle and driven away.

Cohen's widow, Nadia, told Ynet, "I have seen the photos before, but I've only seen this video now. The feeling is hard, painful, and it takes me and the family back to that time period as if Eli's life was ended just now. Seeing the coffin and the body, the masses cheering and the music they composed for this operation—it's a feeling of pain and tears."

The new footage.

Mrs. Cohen added, "The next few days won't be easy for me. The days are difficult as is. I plead with the people who are in Syria and know what killing is—(who are) going through one big pain, (whose) women, children and brothers are being killed—for someone to tell us where the body is and give information. We will be grateful to that person. How painful killing is."

The video was published over a week ago on the Facebook page, which tends to publish historical Syrian videos whose origins are unclear. Dr. Yehuda Balanga of the Department of Middle Eastern Studies at Bar-Ilan University, an expert on Syria, told Ynet that the video seems entirely authentic to him.

"Eli Cohen was a hero on whose myth I grew up as well," Dr. Balanga said. "So far, only photos of the event have been published, not videos. The photos published in 1965 were in the press. We never saw a video. There were books and you could see the photos of the trial and of the execution there, but I don't remember ever seeing something that has to do with the execution and the moments following it."

"It's quite amazing that the Syrian authorities kept something of this kind in their archives," he continued, "This really looks like the Martyrs' Square, Marjeh Square in Damascus. That's Eli in the footage and not someone else. If you pause on the picture of Eli Cohen's body, and the writing on it, you see that the writing is authentic and you can compare it to the photos that were published at the time. The date is May 18 1965, and that's the execution date. It says there what his crimes were and what he did."