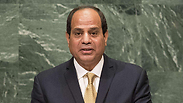 Al-Sisi speaking at the UN
Photo: AFP
Egypt's al-Sisi urges Israel to make history with peace
While speaking at the UN hours before a meeting between President Obama and Prime Minister Netanyahu, Egyptian President al-Sisi addresses Israel and says, 'We have a real opportunity to write a bright page in the history of our region, to move toward peace.'
Egyptian President Abdel Fattah al-Sisi urged Israel to "write a bright page" in Middle East history and make peace with the Palestinians.

Speaking at the United Nations, Sisi said the Israeli-Palestinian conflict was at "the core of regional instability" and called urged the two to look at the "wonderful" example set by his country and the Jewish state, and agree on a solution that lets them exist in peace as two neighboring states.

"Allow me to deviate from the written statement to address an appeal to the Israeli leadership and Israeli people," Sisi told the UN General Assembly.

"We have a real opportunity to write a bright page in the history of our region, to move toward peace," he said.

The first Arab country to make peace with Israel, Egypt has stepped up its diplomacy over recent months to try to re-start Israeli-Palestinian peace negotiations.

The peace process has been comatose since the collapse of a US-led initiative in April 2014.