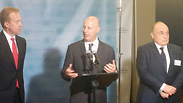 Tzachi Hanegbi at the conference
In the absence of a Foreign Minister, Prime Minister Netanyahu appointed Tzachi Hanegbi to head the Israeli delegation to a conference on donor countries to the Palestinain Authority, which ended Tuesday in New York.

Hanegbi detailed the progress achieved in recent weeks between Israel and the PA on a different levels, and asked donor countries to continue to strengthen the Palestinian economy. He listed the projects that Israel is initiating and promoting to better the quality of life for the Palestinian population.

This includes the signing of agreements for the supply of electricity to the West Bank, an agreement for allocating cellular data to the West Bank and Gaza Strip, frameworks which would allow Israeli banks to conduct transactions with banks in the PA, the supply of six million cubic meters of water to the PA, the PA's connection to the natural gas pipeline from Israel, and more.

The decision to send Hanegbi to the conference with a benefits package to the Palestinians is a change in policy for the Netanyahu government. The current impasse in negotiations and the fear of political pressure has contributed to Israel responding generously to projects it previously opposed.