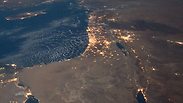 Israel from space at night
Photo: NASA
The National Aeronautics and Space Administration (NASA) released new photos on Wednesday taken by astronauts at the International Space Station of the earth at night—among them one featuring Israel, Egypt and other countries in the region.

The photo, posted on NASA's social media profiles, shows Israel's coastal area lit up, as well as areas inland—like the Jerusalem area, the West Bank, Be'er Sheva, Eilat and the Galilee.

In Egypt, the lit areas seen from space are in the Nile Delta. The Sinai Peninsula is mostly dark, with the exception of more densely populated areas like Taba, Arish and Sharm el-Sheikh.

NASA also released photos that show the Soyuz spacecraft, which is currently docking at the International Space Station.