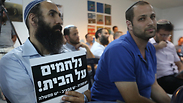 Amona conference
Photo: Gil Yohanan
Knesset members from Bayit Yehudi, along with dozens of activists and party members, participated in an emergency conference on the future of Amona, which is set to be demolished by December. Those present called for legislation to prevent the demolition of the settlement.

Deputy Minister of Defense, MK Eli Ben-Dahan, MK Shuli Moalem, MK Motti Yogev and MK Bezalel Smotrich were all in attendance. When Ben-Dahan rose to speak, Director of Shomron Strategic Unit, Yachin Zik, verbally assaulted him, saying, "Stop with the smokescreen. It is not a solution."

Other participants began to join in the protest and Ben-Dahan sat down after a few moments. "I am not discouraged," said Ben-Dahan. "I believe we can find solutions which will sustain Amona. There is another solution we are currently working on."

MK Moalem argued, "The government will not survive an evacuation from Amona. The entire Bayit Hayehudi faction is saying no. Homes in Judaea and Samaria will no longer be demolished. The Bayit Hayehudi will fight for Amona."

The Regulatory Committee is set to meet on Thursday morning in Attorney General Avichai Mandelblit's office to discuss a solution on absentee properties, which will be examined in the context of house transfers whose owners are not identified.

At the conference, MK Smotrich commented, "Leadership must take risks and the test of leadership is in decision making. This is a political event, not a legal one. The question is who runs government policy: left-wing organizations or us, the elected officials? Regulation of communities needs to be in law. There is no other solution. Only law can cancel a judgment."