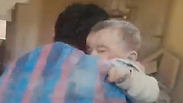 Baby rescued from rubble
Photo: Reuters
While US Secretary of State John Kerry and Russian Foreign Minister Sergey Lavrov try to revive a failed UN ceasefire, the blitz on Aleppo by the Syrian regime and its allies continues. After reports on Friday that 91 people were killed and 40 buildings destroyed, Al Jazeera reports that 15 people, including children, have been killed in Russian airstrikes on a number of neighborhoods in the city.

Al Jazeera quoted sources claiming that forces used phosphorous bombs and that dozens remain trapped in rubble. Exact numbers of killed and injured and claims of phosphorous bombs have not yet been confirmed, but photos and videos depicting wounded, a baby among them, have been published.

Rescue workers in Aleppo after heavy airstrikes

The intensified air bombardment comes after the Syrian army announced Thursday evening that an operation to retake eastern neighborhoods under rebel control was underway. The operation, which has entered its third day, includes heavy bombardment and is expected to include ground forces.

Friday's aerial bombardment has been one of the heaviest in recent weeks and opposition activists say it has included phosphorous bombs as well as cluster bombs.

"This is the worst day we've had in a long time," said James Le Mesurier, a volunteer training members of Syria's Civil Defense team. "They call this type of bombing 'Dresden style.'"

Social networks affiliated with rebels are calling the destruction a holocaust and using the hashtag #HolocaustAleppo in English attached to graphic images of the destruction. Additionally, cartoons attempting to depict the situation have also been added to social media. One such cartoon depicts the world paying more attention to the divorce of Brad Pitt and Angelina Jolie as opposed to those being killed in Aleppo.

Ammar Al-Selmo, head of civil defense, told Reuters that rescue organizations have become a target and that three out of four central organizations in Aleppo have been hit. "What is happening now is annihilation in every respect." Radiologist Mohammad Abu Rajjab described what was happening above him saying, "Can you hear it? Missiles are hitting the neighborhood. We can hear the planes above us. They don't leave—helicopters, bombers and fighter jets."