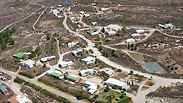 Palestinian proprietary claims cripple chances of Amona solution
Additional Palestinian ownership claims of lands upon which the Amona settlement is built have further frustrated chances of a political solution regarding the settlers living there; Naftali Bennett: 'When the leftist organizations petitioned the High Court to demolish Jewish houses, the Netanyahu-Barak government agreed instead of trying to find a solution.'
The question of how to best deal with the issue of Amona was the central concern of a meeting convened Sunday morning by Bayit Yehudi Chairman, Minister of Education Naftali Bennett, along with lawyers and MK Bezalel Smotrich.

The meeting was convened with the aim of finding a solution to a court order ordering the evacuation of the settlement built on private Palestinian land.

Last Thursday, five additional claims were filed by Palestinians who claim rights to plots adjacent to Amona. These claims join dozens of others that were filed by Palestinians, bringing the total number of plots claimed to 30. The Civil Administration published the numbers and locations of plots in order for anyone who claims ownership to file injunctions against building on the land in question. Currently, only six plots have not been claimed.

During the last two weeks, the Regulation Commission has met to formulate a solution that would allow residents to move their homes to lands on which claims have not been filed. However, with the additional claims made on Thursday, the solution seems unlikely to succeed.

Aerial view of Amona (צילום:תומריקו)

Bennett has laid the problem at the feet of the prime minister, claiming that "When the leftist organizations petitioned the High Court to demolish Jewish houses, the Netanyahu-Barak government agreed instead of trying to find a solution."