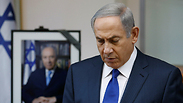 Prime Minister Benjamin Netanyahu
Photo: Reuters
Cabinet observes minute's silence for Shimon Peres
Prime Minister Benjamin Netanyahu and government ministers convene a special cabinet meeting to observe a minute's silence to remember the former president Shimon Peres; Netanyahu: 'There aren't many people in our history who contributed so much to the State of Israel and the people of Israel;' funeral to take place Friday morning on Mount Herzl.
The government convened a special cabinet session of mourning Wednesday morning following the death of Israel's ninth President and former Prime Minister Shimon Peres, who passed away overnight Tuesday after a two-week battle having suffered a stroke.

"This is the first day in Israel without Shimon Peres," said Prime Minister Benjamin Netanyahu at the opening of the meeting, which was followed by a minute's silence by government ministers to remember Israel's ninth president.

Government ministers observe minute's silence for Shimon Peres

Prior to the special cabinet session, Netanyahu expressed his condolences and his "deep personal grief at the passing of the beloved of the nation."

Peres's funeral is scheduled to take place at 9:30am on Friday morning. He will be buried in the Great Leaders of the Nation section at Mount Herzl Cemetery in Jerusalem. Dozens of world leaders and figures are expected to attend the funeral, including President Barack Obama and former US President Bill Clinton.

Moreover, according to the Israeli Ministry of Foreign Affairs, the international dignitaries attending the funeral will include Democratic nominee Hillary Clinton, US Secretary of State John Kerry, Britain's Prince Charles, Canadian Prime Minister Justin Trudeau, French President François, Hollande, German President Joachim Gauck and Mexican President Enrique Peña Nieto.

The funeral procession, which will also be open to the general public, is expected to attract tens of thousands of people. The Ministerial Symbols and Ceremonies Committee will therefore be requested to allow members of the public to file past Peres's casket and pay their respects—including overnight— as he lies in state from Thursday until he is laid to rest on Friday.