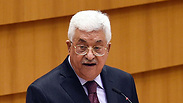 PM officially authorizes Abbas attendance at Peres funeral
After much uncertainty as to whether the PA president would be attending Peres's funeral, Abbas requested that arrangements be made for his arrival; Following much deliberation, Egyptian foreign minister also announces that he will be attending; Jordanian government to send government official.
Prime Minister Benjamin Netanyahu officially authorized a request by Palestinian President Mahmoud Abbas to the Coordinator of Government Activities in the Territories (COGAT) to attend the funeral of Israel's ninth president Shimon Peres along with three other PA officials.
The other officials are PLO Executive Committee Secretary-General and chief Palestinian negotiator Saeb Erekat, Chief of General Intelligence Maj. Gen. Majid Faraj, and Civil Affairs Minister Hussein al-Sheikh.
On Wednesday, it was reported that Abbas sent his condolences to Peres's family, describing him as a partner in peace, together with Yasser Arafat and former Israeli Prime Minister Yitzhak Rabin. He also noted the efforts Peres invested in forging a sustainable peace between Israel and the Palestinians since the signing of the Oslo Accords until the final moments of his life.
After the Egyptian government failed to confirm whether a representative would participate in the funeral procession, it was indicated Thursday afternoon that Foreign Minister Sameh Shoukry would, indeed, attend. Until late Thursday afternoon, there had been a back-and-forth between Egypt and Israel's Foreign Affairs Ministry as to whether Shoukry would be sending any representative at all.
According to Arabic-language Sky News, Egyptian President Abdel Fattah el-Sisi will not be attending Peres' funeral.
The Jordanian government was also slow to confirm that it would be sending any government representatives with the announcement of Deputy Prime Minister for Economic Affairs Jawad Al-Anani's arrival only coming at around the same time as Egypt's and only shortly after an official had stated that neither Jordanian Prime Minister Hani Al-Mulki, nor any of the ministers in his government for that matter, would be attending Peres's funeral.