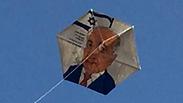 Kite with former President Shimon Peres's face in Kfar Aza
Many Israelis spent the second day of Rosh Hashanah at the country's various nature sites, with the Nature and Parks Authority (NPA) reporting that some 100,000 citizens visited nature reserves and national parks on Tuesday.

Pelicans (קרדיט: ענבר רובין, אגמון החולה)

Particularly popular were the national parks in Caesarea, Ashkelon, Tel Aviv's Yarkon River and Beit Guvrin, where the NPA organized kite-flying activities for families. Some 2,000 persons took part.

"The weather is great, and the wind is excellent for kites," said Tomer Saragosti, the administrator of the Beit Guvrin National Park. Linoy and Noa, two ten-year-old girls, came from Yahud. "It's really fun. We're flying medium and small kites. It's windy, and we put on sunscreen."



Many Israelis also visited the Sea of Galilee for their day off—nearly 50,000 Israeli travelled to the area with 16,000 visiting its 15 beaches. One, Zinabberay Beach completely filled and was closed at times to new visitors.





However, the abundance of humans didn't necessarily equate to an abundance of littering, as is the norm in Israeli holidaymaking—the Kineret Authority ran a promotion wherein visitors who collected three bags of detritus from the beach would have their parking comped.



Tal Nachshon from the Kineret Authority's public relations, which were at beaches throughout Rosh Hashanah, explained that their presence was to encourage vacationers to collect their own rubbish, distributing bags for that purpose and explaining the free-parking arrangement.






Inspectors from the authority were also on hand to enforce the prohibition on unloading watercraft at certain locations and fining violators.

Other popular vacation spots were nature reserves and national parks in the north of the country.

Ahiya Raved, Ilana Curiel & Raanan Ben Zur contributed to this report.