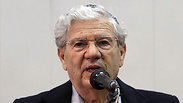 Former Supreme Court president Aharon Barak. Shaked's ideological foe.
Photo: Gil Yohanan
"A Thatcherist manifesto," that's how Minister of Justice Ayelet Shaked refers to an article she wrote, recently published by policy journal Hashiloach. Shaked presents her wider view of her role in the article, which includes a precedent: For the first time, a justice minister has advocated for the strengthening of Israel's Jewish nature when speaking of the delicate balance between the state's Jewish and democratic ideals.

According to Shaked, the more Jewish Israel is, the more democratic it will become.

"When we wish to put Israel through advanced democratization processes, we must simultaneously deepen its Jewish identity," Shaked wrote, "These identities are not contradictory. On the contrary: I believe they reinforce one another. I believe the more Jewish a state we are, the more democratic a state we will be, and that the more democratic a state we are, the more Jewish a state we will be."

Shaked is expressing de facto opposition to the judicial policies set in place by former Supreme Court president Aharon Barak, who interpreted Israel's Jewish nature in a very broad and symbolic sense. In fact, Shaked claims it is a matter of great substance to the state and its laws. In addition, while Barak supported judicial activism, Shaked takes a more conservative stance, advocating for a more rigid separation of powers. "The path of the train of Israeli justice (system) must keep in mind the states' Jewish nature," she wrote, "It must do this in a real way: Not just as a symbol, but as a matter of concrete meaning."