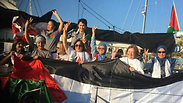 Women aboard boat attempting to breach Israel's Gaza blockade
The Israel Navy took control of the Zaytouna-Oliva flotilla Wednesday which set sail from Barcelona in an attempt to breach the Israeli naval blockade of the Gaza Strip.

Commenting on how the incident unfolded, an IDF official said, "the flotilla was stopped without resistance 35 miles from the Israeli coast. There were 13 women aboard and the boat is on its way to Ashdod and will arrive within an hour."

Activists of the flotilla

The IDF Spokesperson's Unit also released a statement on the matter. "In accordance with the decisions of the political leadership and after calls to the Zaytouna flotilla by the navy to stop, which were rejected, sailors from the Navy took control of the boat before it arrived at the Gaza Strip," the statement read.

"The process of taking control was short and resulted in no injuries. The response was implemented after many call to the sailors aboard the flotilla at various distances in the sea. After the sailors indicated that they had no intention to cooperate and to accept the offer to sail to Ashdod, the decision was taken to take control and to prevent it from breaching the legal naval blockade and to divert it to the Ashdod port," the statement continued.

The boat was sponsored by the Freedom Flotilla Coalition, a group of pro-Palestinian groups based mostly in Europe. The Dutch-flagged boat was carrying 13 female activists from different countries headed by Mairead Maguire, an Irish Nobel Peace Prize laureate. A retired US colonel and former South African Olympic athlete were also on board, along with women from the United Kingdom, Sweden, Russia and Malaysia.

Zaher Darwish, one of the coordinators of the flotilla, said the boat not carrying any aid and that the goal was purely "symbolic" — to call attention to the Israeli naval blockade of Gaza, which he called illegal.