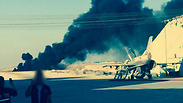 Israeli pilot returning from Gaza dies after ejecting from burning plane
After a fire broke out shortly before landing, Capt. Ohad Cohen Nov, returning from reprisal airstrikes in Gaza , was killed and a navigator lightly wounded after they were forced to abandon their F-16 plane; circumstances surrounding the fire remain unknown, IAF commander launches investigation.
An Israeli Air Force F-16 pilot, Capt. Ohad Cohen Nov was killed Wednesday after being forced to abandon his plane just before landing at the Ramon Airbase in the Negev.
It later emerged that Cohen Nov had been returning to the base following a wave of IAF reprisal airstrikes against Hamas targets after a rocket was launched into the Israeli city of Sderot on Wednesday morning.
The aircraft's pilot and navigator ejected from the plane when it began to catch fire, leaving the navigator lightly wounded. Israel Air Force Commander Amir Eshel, ordered an immediate investigation into the circumstances surrounding the cause of the fire.
Cohen Nov was 34 years old and lived on teh Ramon Airbase. He was a deputy squadron leader. The IDF Spokesperson announced that the military expressed its condolences to his family.
Navigator being evacuated the hospital (צילום: רותם אליזרע)
The incident was cleared for publication on Wednesday evening after the victims' families had been notified.