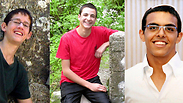 Eyal Yifrach, Gil-Ad Shaer, and Naftali Frenkel.
Photo: Reuters
HBO show to tell story of 2014 kidnapping and murder of Israeli teens
The American cable TV company and Israeli company Keshet are producing a series that will tell the tale of Eyal Yifrach, Gil-Ad Shaer and Naftali Frenkel's kidnapping and killing in summer 2014 through the eyes of a Shin Bet investigator.
A new drama series by American cable television company HBO is set to tell the story of a Shin Bet investigator who's trying to work out the events of summer 2014, in which Israeli teenagers Eyal Yifrach, Gil-Ad Shaer and Naftali Frenkel were kidnapped and murdered on June 12, 2014, in the West Bank area of Gush Etzion.

The three teens were thought to be missing and presumed kidnapped for 18 days, during which the Israeli armed forces conducted a search operation named Brother's Keeper. On June 30, their bodies were found in a field near Hebron.

It eventually became clear that the three were kidnapped while trying to hitchhike home by Marwan Kawasmeh and Amar Abu-Eisha, and murdered that same night. Kawasmeh and Abu-Eisha were killed in a shootout with the IDF that took place on September 23 that same year. Operation Brother's Keeper was then said to have concluded by then-IDF Chief of Staff Benny Gantz.

The HBO show will be produced and filmed in Israel, is created by Hagai Levi (who also created the Showtime series The Affair) and Noah Stollman (who wrote the Israeli film The Human Resources Manager). It will be directed by celebrated Israeli filmmaker Joseph Cedar, whose 2011 film Footnote was nominated for an Academy Award for best foreign language film.

 

Casey Bloys, president of HBO Programming, said regarding the matter, "We're excited to work with Keshet and this extremely talented and creative group led by Hagai Levi."

"HBO has always been a home to me. I'm so thrilled to work with them again, and regroup with my good friends from Keshet," said Levi.