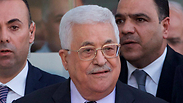 Mahmoud Abbas
Photo: Reuters
Who will be Abbas's successor?
Palestinian Authority President Mahmoud Abbas underwent heart surgery on Thursday, raising fears over the fact that there is no clear successor to head the West Bank-based Palestinian Authority; among the potential hopefuls are people who have been charged with terrorism against Israelis and people who have embezzled tax revenue from the Palestinian people.
Palestinian President Mahmoud Abbas received a clean bill of health after undergoing an emergency heart procedure on Thursday. But his brief hospitalization drew attention to the lack of a clear successor to the aging leader and the ongoing rift between rival governments in the West Bank and Gaza Strip.

Abbas, leader of the Fatah Party, was elected president of the Palestinian Authority in 2005 in what was supposed to be a four-year term. One year later, the rival Hamas militant group defeated Fatah in parliamentary elections and violently seized control of Gaza in 2007. Abbas has remained in control of parts of the West Bank ever since, while no national elections have been held.

Despite his age, plummeting popularity and history of health issues, Abbas has ignored calls over the years to appoint a successor. A long list of senior officials and security chiefs would likely covet the job, though there is no clear front-runner.

Here are some possible successors to Abbas:

Marwan Barghouti, 57.

The Palestinian uprising leader, who is serving multiple life terms in an Israeli prison for his involvement in the murder of five Israelis during the Second Intifada, is expected to run for president from his cell once Abbas is out of the picture, according to his inner circle. Opinion polls have consistently shown Barghouti to be the most popular Palestinian politician. At a time when two-thirds of Palestinians are expressing their desire to see Abbas resign, opinion polls suggest Barghouti would handily defeat a Hamas challenger, such as former Gaza-based Prime Minister Ismail Haniyeh, in presidential elections. It's not clear, however, if Palestinians would choose a leader who is in Israeli jail during an actual election. Israel also has given no indication it would be willing to release him.

Bargouti is the former head of the Tanzim, the armed faction of Fatah. The group is responsible for the murders of over 40 Israelis and approximately four Palestinians while he was leader. He worked extensively with Hamas and Palestinian Islamic Jihad.

Jibril Rajoub, 63.

The gravelly voiced former West Bank security chief is known for his bluntness and mercurial temper. He was arrested at the age of 17 for throwing a grenade at an IDF bus, but released during a prisoner exchange with the PFLP in 1985. He was then re-arrested for his part in a plot to assassinate Ariel Sharon in 1992 and was subsequently exiled to Lebanon, but allowed to come back to the West Bank as a part of the Oslo accords. Rajoub then launched a crackdown on Hamas and the Islamic Jihad movement, allegedly personally executing Hamas members in the Judean hills.

In 2012, he described an Israeli request to observe a moment of silence at the Olympics in memory of the Israeli Olympians murdered in Munich as "racist," and said in an interview with Hezbollah affiliated al-Mayadeen news network in 2013 that "we the Palestinians are the enemies of Israel."

Rajoub has made a comeback, serving as head of the Palestinian Football Federation, where he has repeatedly tried to have Israel and Israeli teams kicked out of FIFA. In the interim, he has risen to the top ranks of Fatah, and has become a bitter rival of Mohammed Dahlan (see below), which will likely keep both out of the top leadership post.

Ismail Haniyeh, 53.

Hamas, an Islamic terror group sworn to Israel's destruction, might sit out presidential elections because of its past experience of being shunned by the international community over its refusal to renounce violence, and might instead settle for serving as kingmaker. If Hamas does compete, a likely candidate would be Haniyeh, a preacher-turned-politician and one of the most powerful figures in the movement.

Mohammed Dahlan, 55.

Born in a Gaza refugee camp, the charismatic and pragmatic Dahlan was once seen as a promising future leader. He lost political standing after the loss of his native Gaza to Hamas in a 2007 takeover and a falling-out with Abbas in 2010. In exile in Dubai, Dahlan expanded his business interests and forged close ties with the leaders of Egypt and the United Arab Emirates. He has used money and political clout to shore up support in Gaza, though his influence is weaker in the West Bank. Confidants say Dahlan expects to return to the West Bank once Abbas is no longer in office and will likely serve as a deciding voice between contenders for the leadership.

Dahlan headed the Fatah Preventative Security Force in Gaza, where he he was accused of torturing Hamas detainees, allegations which he denies.

He was also accused of stealing 40% of the taxes levied at the Karni crossing between Gaza and Israel in 1997, ammounting to approximately $260,000 a month.

Nasser al-Qudwa, 63.




The nephew of the late Palestinian leader Yasser Arafat is popular among Palestinians. Al-Qudwa served as Palestinian Foreign Minister and as the Palestinian representative to the United Nations. Originally from Gaza, al-Qudwa spent decades living abroad in New York, Cairo and Paris before moving to Ramallah in the West Bank. He served as Palestinian Foreign Minister in 2005. Al-Qudwa is a member of the Fatah Central Committee, but some in Fatah oppose him because of his close ties to Abbas' rival Mohammed Dahlan.

Mohammed Ghoneim, 79.

Ghoneim is the second most powerful figure in the Fatah movement. Although he is a political unknown, he is seen as a possible interim leader and a guarantor of Fatah unity. Ghoneim is among the founders of the Palestinian Liberation Organization. Raised in Jerusalem, Ghoneim lived in exile in Tunisia for years, and opposed the Oslo interim peace accords. In 2008, he moved to Ramallah. Palestinians have raised eyebrows at his advanced age and low profile.

Saeb Erekat, 61.

.

The veteran Palestinian negotiator with Israel is seen as Abbas' closest aide and favored successor, having displayed unwavering loyalty to the Palestinian leader. Late last year, Abbas appointed Erekat as secretary-general of the Palestine Liberation Organization, the same position Abbas once used as a springboard to the presidency following the death of Arafat in November 2004. Erekat is seen by some in Fatah as an outsider, and polls indicate he would do poorly in elections for president of the Palestinian Authority.

Salam Fayad, 63.

Serving as Abbas' prime minister from 2007-2013, the economist won praise from the international community for cleaning up the Palestinian Authority's finances. At the same time, the political independent has failed to build broad political support at home. Over the past year, he has made overtures to former nemesis Hamas, an odd alliance that could help him in a leadership bid.