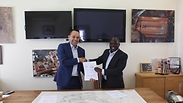 Eytan Schwartz (L) and John Tanui sgning the Memorandum of Understanding
Photo: TPS
The municipal company Tel Aviv Global and the Republic of Kenya have announced Memorandum of Understanding (MoU) to collaborate on the development of a new "smart city" in south-eastern Kenya, as part of the DLD Tel Aviv Innovation Festival of 2016.

The Konza Technopolis Development Authority (KoTDA), also dubbed "Silicon Savannah" city or "Techno City," is a $14.5 billion project that will feature a science and business park, convention center, shopping malls, hotels and international schools, among other facilities. Kenyan innovators and entrepreneurs will participate in the Tel Aviv Global local start-up acceleration and skills training program.

The agreement was signed today in Tel Aviv by Chief Executive Officer of KoTDA Engineer John Tanui and Eytan Schwartz, Chief Executive Officer of Tel Aviv Global.

"The knowledge economy is the way of the future," said KoTDA engineer John Tanui. "It flourishes where international networks are there to nourish it with new ideas.

"Since Israel is one of the undisputed leaders in the global innovation space, we are confident that this partnership will provide our community of innovators with a collaborative platform that will position them in the global scene," he continued.

According to the MoU, KoTDA will choose Kenyan start-ups, innovators and entrepreneurs to participate in three Tel Aviv Global initiatives aimed at creating urban and technological models for the new city.

The first venture, "Start Tel Aviv," will offer workshops and practical mentorship from leading experts. The second, "Launchpad Tel Aviv," will enable to launch a minimally viable product with Israeli experts' mentorship.

"Acceleration Academy Tel Aviv," the last initiative, will provide academic courses at leading Israeli institutions on topics such as institutional innovation, technology transfer, building and promoting entrepreneurial ecosystems, smart cities, innovation in management among others.

"Tel Aviv aims to inspire global practices," said Mira Marcus, International Press Director for the Tel Aviv Municipality. "As a city that spent decades learning from other cities we are proud today to work with the developing world and to assist them in developing their cities to be more innovative and more sustainable."

The new "smart city," slated for completion by 2019, will be built on 5,000 acres of land, about 60 kilometers (37 miles) south of Nairobi. The city will be home to some 30,000 residents and offer 17,000 jobs in the initial phase. By 2030, it is expected to grow to 200,000 residents with thousands of additional jobs.

"Israel has had a very good relation with Kenya in the fields of agriculture, such as irrigation and agronomy technologies, security, education for sustainable development, along with other public and private sectors' ventures," said Michael Baror, Israel's deputy ambassador to Kenya.

"Nowadays, Kenya serves as an entrepreneurship hub in the high-tech field in East Africa and is on its way to become a regional leader. The partnership with Israel will enable Israel to place itself as a leading force worldwide and Kenya as its regional counterpart," he concluded.