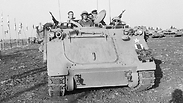 Roughly 43 years after the Yom Kippur War, the IDF archives released on Monday recording of radio communications from the battle of Tel Shams in the Golan Heights.
During the battle, a Sayeret force, commanded by Yonatan "Yoni" Netanyahu (older brother of Prime Minister Benjamin Netanyahu), years before his death during OpEntebbe, operated in the area, and was sent to extract an IDF force whose commander, Yossi Ben Hanan, was wounded.
The recordings take listeners through the complex operation, which involved flying in a helicopter. Netanyahu would later receive the Medal of Distinguished Service for his actions during the rescue.
Yoni Netanyahu recording during rescue operation
Transcript
Yossi here, over.
Give me your direction – North South, East, West – over.
We're sending the doctor over to you
This is 24, I'm requesting a chopper to come evacuate us
Raful: Positive… we've requested it and are checking it… I still haven't received an answer. I'm checking again.
10 This is Yoni, 10 this is Yoni – which direction are they shooting at the road from? Over.
Yossi answer him…
Go to the end until you get to our vehicle
Yoni, don't base your aim on the brush fires – do what I order you. go on the Kulis
Yossi, don't stick your head out. They'll get to you, don't worry. We have a guy who knows exactly where you are. The man will join Yoni – they know where you are.
You've been found. There are no problems with the (radio) connection to identify you. Don't worry. We are doing everything we can.
20, here's Yoni, over.
20, over
Look, Zohar told me that I can get about two and a half kilometers away from where Yossi is, and then I'll need to walk, which means that there are two and a half kilometers by foot, and then let's say another kilometer when I'm returning because by that time darkness will have fallen… it might be worth it for me to advance as much as I can, and by that time, it will already be dark, and I can go into the APC. What do you think?
Advance now and then go by foot. Advance, I think you can go another kilometer or so.
Meaning I will get out a kilometer from the road, and he's about a kilometer and a half from the road?
Yossi, Yoni is on his way to get you out of there.
I see one giant fire and to the left another fire which is almost extinguished, over… are you next to the small fire or the big one?
Yoni, do you have visual contact with the fires?
I don't see the fires, over.
Yoni 20… I want to land it (the helicopter), land it next to you – next to where you are. Make all the preparations for landing – over.
Yoni: I'm able to land it next to me
23 here, on the side south of where Yoni is standing are tanks – don't be afraid.
Yoni from 20 – are you listening?
I can hear you loud and clear, over.
Get on now. Turn on the light now (and point it) in the direction of the entrance. Don't keep it on for to long, just for a second. He'll see it, then turn it off.
Yoni fought with the tank forces day and night
In May 1975, Netanyahu received the Medal of Distinguished Service for his actions during the operation. "Major Yonatan Netanyahu commanded a force from a unit that was attached to a force from a Tank Corps brigade. He fought with the tank forces day and night, and went on raids and ambushes, while tank units were organizing," the official statement in which the awarding of the decoration said.
It went on, "When a senior officer was wounded in Tel Shams, Maj. Yonatan Netanyahu volunteered to lead the rescue force, after a previous rescue attempt had failed, and succeeded in this mission. In his courage, the quickness of his action, and his determination (to complete) the mission, he constituted a distinguished example to his soldiers.