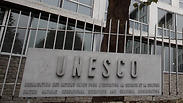 TOKYO — Japan has withheld its annual UNESCO dues, saying it wants to make sure the UN body properly functions to foster trust among member nations.

Foreign Minister Fumio Kishida, asked by a reporter, confirmed that Japan withheld dues of nearly 4 billion yen ($40 million) for this year. He refused to say if that was to protest UNESCO's listing last year of Chinese Rape of Nanking documents as a memory of the world.

Israel suspended its cooperation with UNESCO on Friday, a day after the UN cultural agency adopted a draft resolution that Israel says denies the deep, historic Jewish connection to holy sites in Jerusalem.

Kishida said the decision is based on "comprehensive" observations. Japan disputes China's historical views on the 1937 massacre and has criticized the UNESCO decision.

A Foreign Ministry official later said that Japan is watching to see if UNESCO is living up to its founding purpose of promoting peace among member nations through education, and will consider the timing of its payment while examining whether the UN body is operating appropriately.

There is no deadline for a member nation to pay its annual contribution. Non-payment could lead to a member nation losing its voting right at the body's general meeting, he said.

Japan provides 9.7 percent of UNESCO budget, the body's second-largest donor after the US at 22 percent. Washington has suspended its dues since 2011 when Palestine began participating in UNESCO.

UNESCO would not comment Friday on Japan's decision. Kishida's comments came as Israel suspended cooperation with the agency over a draft resolution minimizing Jewish ties to Temple Mount and the Western Wall.

In 2014, China submitted documents on the 1937 massacre of Chinese citizens by the Japanese military in what became known as the Rape of Nanking, which Japan has largely played down. The documents were registered on the heritage list last October.

China says up to 300,000 people were killed, while Japanese nationalists have largely played down or denied the incident. Japan and some scholars say the number was much smaller.

Japan has criticized UNESCO's "unilateral" registration system, which it says failed to give Tokyo access to the documents for verification, adding the process lacked fairness and transparency.