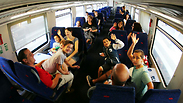 A new line, after a 65-year break.
Photo: Gil Nechushtan
It's Sunday, about 7:20am, at the HOf HaCarmel Railway Station in Haifa. The new Jezreel Valley Train comes in, its destination written on a sign at the front: Beit She'an. On the platform, people are exited: It's not every day that a line comes back into use after a 65-year pause.

The train leaves Haifa and travels through the fields of the Zvulun valley, the Jezreel Valley, and the Beit She'an Valley. Parents and children who woke up early to take part in the new line's first journey read the morning views.

This line feels different. When the train stops near Kfar Baruch and the scents of cowsheds and chicken coops fills the train cars, you really feel that you're in a rural area. Nahum Levy, director of the Jezreel Valley Train museum in Elroy, summarized his journey, saying, " I traveled on this historic train as a child in town, and now I'm traveling on it again. It's a fantastic experience for which I've waited 65 years."

Ride times between Haifa and Beit She'an are about 50 minutes in each direction. They are free for now, and will still be at a 50 percent discount rate for valley area residents during early November. Israel Railways CEO Boaz Tzafrir said the debut voyage of the old-new line was a celebratory occasion. "The Jezreel Valley Train will constitute a bridge for peace. It will connect the Haifa Port to the Jordan River Crossing (Sheikh Hussein Bridge), on the way to Amman."