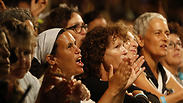 Women rally for peace outside the Prime Minister's Residence, Wednesday
Photo: AFP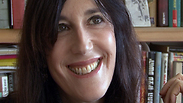 Israeli author Zeruya Shalev
Photo: Avi Peretz
It looked like a mirage in the heart of the boiling desert. Hundreds of Palestinian women, most of them wearing traditional clothing, emerging from dozens of buses, excitedly meeting thousands of Israeli women dressed in white. We are all enthusiastic about this meeting. We hug each other and ask each other the most basic of questions: What is your name? Where are you from?

From Jenin, from Bethlehem, from Nablus, from Hebron, from nearby Jericho. Older women and younger women, religious and secular, some speaking fluent English and some who introduce themselves only in Arabic, asking: Can we take a picture together? We squeeze into the iPhone screens together in the blazing heat.

They will take the pictures back with them to Jenin and to Bethlehem, to Nablus and to Hebron. Pictures which bring us together on one rare day, in which we managed to believe. Because when I told my acquaintances about the planned event at Qasr el-Yahud with 1,000 Palestinian women, most of them doubted it. They won't come, they said.

But they came and enthusiastically wore white hats over their headscarves, and some even wore over their dresses the white shirt with the Hebrew, Arabic and English caption "Women Wage Peace." And in the back: "We choose life. We demand a peace agreement."

Locked arm-in-arm, we march towards the baptism site. The Jordan River's water is yellowish and shallow, but the heart soars. The warmth of our closeness exceeds the heat of the desert, as we listen together to the rousing speech of Leymah Gbowee, who together with other women managed to bring about a peace agreement in her country, Liberia, and together it seems to us that it is also possible here. If there are many of us and if we are determined and if we cooperate, we might manage to force the leadership to talk, to try – as we have – to find out what unites us rather than what separates us, to try to build trust and give hope.

The comments of Huda Abu Arqoub of Hebron, director of the Alliance for Middle East Peace, spark enthusiasm too. In the mass protest outside the Prime Minister's Residence on Wednesday evening, she says she came especially from Hebron to let us know that there is a partner.

I seem to detect an awakening among Palestinian women, as well as among Israeli women. I detect both between us and them, and within ourselves, a new and different discourse. A discourse which includes compassion and responsibility and concern and a shared fate, without accusations, without victims, an egalitarian discourse directed at emotions. It seems like a mirage, but all of us here today are reclaiming the right to hope.