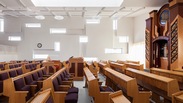 Synagogue
Photo: Tal Nissim
Destroyed Holocaust-era synagogues reconstructed
The accurate and opulent reconstructions of synagogues are based on old pictures and historical records and have been built around the world from Israel to North America; the work harks back to a time when handcrafted designs using wood and precious metals were the norm in synagogue design.
A new trend is cropping up around the world in which synagogues are being remodeled based on pictures and historical accounts of synagogues destroyed during the Holocaust.
Micah Oberman, CEO of Lavi Furniture Industries, which specializes in the production of synagogue furniture and equipment to synagogues around the world, indicates that the trend is most striking in the restoration of synagogues from towns in Poland, Ukraine and Hungary that were destroyed and burned during the Holocaust.
Restoration and design are taking the forms of color choices, elaborate decorations, precious metals and designs of sanctuaries.
According to Oberman, "The restoration work is being conducted in coordination with historians and experts in photo restoration. Recently, a synagogue in Toronto was restored based on a synagogue in Jaslo, Poland, at a cost of $15 million. The work involved wood carvings and gold-coated leaves."
One such restored synagogue can also be found on Hagai St. in the Old City of Jerusalem near the Western Wall. It was established in 1904 by a community of religious Hungarian Jews and named after Rabbi Yitzchok Ratsdorfer. The synagogue was destroyed in the War of Independence and rebuilt in 2008.